How much does it cost to design a mobile application? This should ideally be the first question in your mind when you decide to develop an app. To determine app design costs, one needs to take various factors into account.
This usually includes the complexity of the application, its design, and the agency working on designing and developing the app.
We, therefore, need to work closely with business analysts to understand the process of designing an application. This is because it is the business analyst team that supervises the complete design and development process from start to end.
This will also enable us to determine the factors that affect the rate of app design, design timeline, design quality, and much more.
This article will thoroughly cover all the information on these aspects and beyond it to answer the question- what is the cost of designing an app? We suggest you bookmark the article, as it will be helpful for future reference when building an app.
How Much Does It Cost to Design an Mobile Application?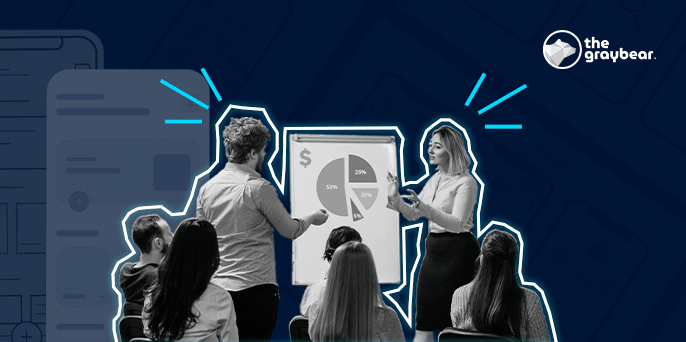 One needs to consider various factors while designing a mobile application. This includes the complexity of the app, hired design and development team, intended design, and a lot more.
Out of all these factors, choosing the right team is the most crucial one and significantly affects app design costs.
These aspects also determine whether the project will be completed within the budget or will exceed it. Nevertheless, here is a complete list of essential factors determining an app's design cost.
Application's Complexity
Most businesses and app owners nowadays wish to cover a large user market and add maximum functionality to their applications. This is good in terms of business, as adding more useful features directly enhances the application's user experience.
However, this also directly impacts the time it will take to create an application, as there will be more screens to design. Moreover, it is important to associate each element of the application with the corresponding landing screen.
Here is an example in which each corresponding screen is displayed.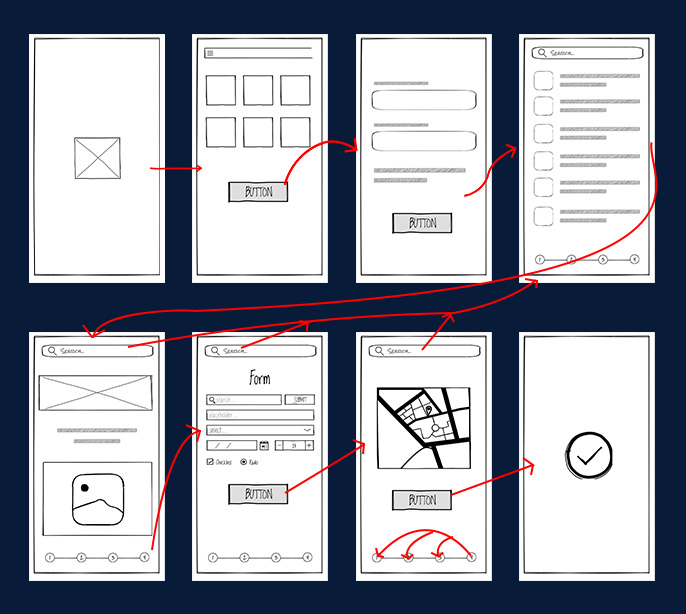 Generally speaking, as the number of features that need to be added to the application increases, it becomes difficult for the app designers to work on them within a limited time frame.
Therefore, one would need to hire more designers to work on the app to launch it on time. As a result, the complexity of the application directly impacts its cost. To explain, the more features you wish to integrate, the more complex your app will be, and the higher its design costs will go.
Have a look at the cost of designing a mobile application of different complexities from designers located in Asia. You must know that the average app designer rate in Asia is $20 per hour.
Average Design Cost Based on App's Complexity
| Type of App | Time to Design | Average Cost |
| --- | --- | --- |
| Simple | 120 to 150 hours | $2,400 to $3,000 |
| Medium | 350 to 500 hours | $7,000 to $10,000 |
| Complex | 700 to 900 hours | $14,000 to $18,000 |
Here is the formula we have used to calculate the cost of designing an app.
App Design Cost= Average Hours it Takes to Design an App x Hourly Rate
While we have provided the design cost data only from Asia, you can use the same formula to find the mobile app design cost in your region.
All you need to do is multiply the hourly rate in your region by the average hours it will take to develop the app.
We have explained this concept in detail in the upcoming section, so make sure to read carefully.
Designer's Location
It is a common misconception amongst entrepreneurs that paying more money to design an app will deliver the best results.
Moreover, some even believe that a newly established company cannot deliver the best quality application. However, these myths often result in businesses paying a higher amount for their app's design.
You must know that the salaries that UI/UX designers charge across the globe are different. Therefore, in order to optimize the cost of designing an app, you need to know about the different app designer salaries around the world.
This will enable you to select a location where the design costs are low, and the output quality is high, therefore optimizing your app design project.
Here is a table for your reference on the hourly rates of UI/UX designers across the different regions of the world.
Location-based Design Rate
Destination
Countries
Hourly Charge
Asia

India
Vietnam
Nepal
Malaysia
Pakistan
Indonesia
Philippines
Bangladesh
China

$20-$25
Africa

Kenya
Nigeria
South Africa
Egypt
Morocco

$25-$40
Eastern Europe

Poland
Romania
Hungary
Slovakia
Czech Republic
Bulgaria
Ukraine
Austria
Belarus

$45-$70
Latin America

Mexico
Chile
Colombia
Brazil
Peru
Argentina

$50-$90
Considering the above-given hourly app design rates, here is how much it will cost to design a simple, medium, and complex application in different locations.
| Destination | Type of App | Average Cost |
| --- | --- | --- |
| Asia | Simple | $2,400 to $3,000 |
| | Medium | $7,000 to $10,000 |
| | Complex | $14,000 to $18,000 |
| Africa | Simple | $3,000 to $3,750 |
| | Medium | $8,750 to $12,500 |
| | Complex | $17,500 to $22,500 |
| Eastern Europe | Simple | $5,400 to $6,750 |
| | Medium | $15,750 to $22,500 |
| | Complex | $31,500 to $40,500 |
| Latin America | Simple | $6,000 to $7,500 |
| | Medium | $17,500 to $25,000 |
| | Complex | $35,000 to $45,000 |
It is necessary to note that these figures are just rough estimates based on our previous projects. In order to know the exact price of designing an application, you need to connect with an agency offering UI/UX design services.
Type of Designing Team
Every app is unique in nature and design, and therefore developing it requires different mindsets. Moreover, app designers need to undergo training from time to time to update their skills and create market-friendly app designs.
This is because technology, consumer trends, and innovation in UI/UX are constantly changing and upgrading. Consequently, it becomes crucial to hire the right app designer to work on your project for optimum quality results.
The app designer can be an employee of your company, a freelancer, or an outsourcing agency. The cost of designing an app will largely be determined by your choice of the type of design team.
Every option has its own advantages and limitations, which also impact the final cost and quality of your app. Let's take a closer look at each type of team and its benefits and drawbacks for better insight.
In-house Design Team
This option is preferred by businesses that prioritize quality over design budget and timeline. Here, the app designers are the employees of the company that wishes to build an application.
Since the designers work closely with the company throughout the day, they are able to generate better and more efficient outputs.
However, to hire a design and development team, the business needs to arrange an adequate infrastructure. This includes the hiring process as well as the facilities that employees require while working in a company.
Consequently, this not only increases the design costs for an app but also delays the app deployment timeline. As a result, this option is suitable only if you want to develop an enterprise-level app without any time and budget constraints. Here are the pros and cons of hiring an in-house team.
| Benefits | Drawbacks |
| --- | --- |
| The business has complete control over the entire app design process. | The designers might get bored by monotonously working on designing, revising, and updating a single project. |
| Since designers are the company's employees, all meetings take place in person. The designers can easily understand the brand culture, the value of the app, and much more. | Proper infrastructure and maintenance are required to hire an in-house team. As a result, a higher app design cost would be incurred with this option. |
| All members of the team are dedicated to only one project, ensuring optimum performance. | The leaves or absence of an employee will cause an irregularity and increase in the overall design cost. |
| | You must know that designing a mobile app is a complex task that requires various mindsets and creative inputs. As a result, to create an optimum app design, businesses have to hire a complete UI/UX design team. However, this will further add to the overall cost of design. |
Freelance App Designers
This option is usually preferred by entrepreneurs that have a small budget for app design. Businesses can find freelance app designers from various online portals and hire them for the project.
Here is a detailed process on how you can find a freelance app designer for your project.
Upload your requirements on freelancer hiring platforms such as Upwork, Freelancer, Toptal, etc.
Freelancers will view your requirements and bid on your project.
Shortlist designers on the basis of your budget and their portfolio.
Interview the selected designers.
Finalize the designer(s) to work on your project.
Freelance app designing usually means that the project has been allocated to an individual or a group of individuals. While it is true that app design prices are lower here, there are various other hurdles involved in this approach.
Have a look at the pros and cons of hiring a freelancer for your app designing project.
| Benefits | Drawbacks |
| --- | --- |
| The best way to save on app design costs. | There is no guarantee of project completion, as there are chances that the freelancer might drop your project in the middle. |
| The hiring process is quick, unlike the in-house designing team option. | Freelancers work on multiple projects at once. Therefore, there is no assurance of the quality of the app which a freelancer will design. |
| Freelancers are available in a short time span and, therefore, can work on your project as soon as hired. | Freelancers work from various parts of the world and, therefore, might have a different time zone than yours. As a result, the chances of a communication gap arising are high. |
| | There are no guarantees in terms of productivity, efficiency, trust, or reliability in this approach. |
App Development & Designing Agency
This is another highly popular option to choose while deciding to develop and design an application. However, in this option, you will be appointing an agency instead of an individual to work on your app designing project.
Hiring an agency is the most preferred option as it has the least mobile app design rates and offers optimum design quality.
Generally speaking, this option is comparatively less expensive than hiring an in-house team; but more costly than hiring a freelancer. Here is how you can find an app designing and development agency for your project.
Steps to Hire a Design Agency
Narrow down the list based on the company's portfolio.
Contact the final list of companies by email or phone, or use the contact form.
Check each company's feedback and proposal.
Decide which agency is best suited to your goals, budget, and deadline.
Contact the shortlisted company and send them your detailed requirements.
Essentially, there are three main options for outsourcing app designing and development to an agency: onshore, nearshore, and offshore design & development.
The charges of app design vary with each approach, and so does the quality. We will discuss each approach in detail later in the article.
| Benefits | Drawbacks |
| --- | --- |
| Designers with vast industry experience. | The cost of an app design is higher than a freelancer. |
| A team of skilled and experienced designers will design your app. | You don't have full control over the app design process, as the agency takes care of everything. |
| On-time delivery of app designs is guaranteed. | If you alter any requirements in the middle, the cost of designing the app will increase. |
| Designers are immediately assigned to your project. | |
Note: Outsourcing app design to an agency is a highly recommended option out of all, as the benefits overpower the drawbacks. Moreover, the drawbacks of this option are least likely to negatively impact your app design project.
Options like hiring a freelancer and appointing a design and development agency are mostly selected by newly established businesses looking to develop a startup-level application.
This is because these options have the lowest cost investment, which is a factor that startups generally look for.
Choice of OS Platform
A report by Statista showed that there are 6,648 million smartphone users in the world as of 2022. These figures are expected to reach up to 7516 million by the end of 2026.
Moreover, a Statcounter report further showed that Android, Windows, and iOS are the leading operating systems in the market, with a collective market share of 89.52%. It, therefore, becomes difficult to determine which platform is used by the target market of the business.
Speaking factually, app design costs vary from platform to platform and from one OS to another. Therefore, the cost of designing an iOS app doesn't need to be the same as that of an Android app.
As a result, the platform you choose to develop your application will largely determine the design cost. Let's find out how the cost of designing a mobile app will vary amongst the major OS platform.
Android OS
As per research data, Android is the top-notch operating system in regions like Asia, Africa, and Latin America. Owing to the open system infrastructure of the operating system, the developers are able to create robust applications that are based on extensive design creativity.
Factually speaking, the cost to create an app design for Android apps is 20% to 30% less than that of iOS apps. This is a must-know fact for businesses undertaking app design and development to determine the cost of the final project.
Here is how much it will cost to design an Android app of different complexities.
| Type of App | Average Cost |
| --- | --- |
| Simple | $2,000 to $2,500 |
| Medium | $5,000 to $7,000 |
| Enterprise | $12,000 to $16,000 |
iOS
It is comparatively challenging to design an iOS application, as the platform has strict design guidelines to ensure the quality of apps on the platform. Owing to this factor, the app design cost for iOS applications is higher than the Android ones.
However, by following the guidelines of human interface design (iOS design standards), one can ensure a quality app and a seamless user experience.
Below given is the cost to design an iOS app with different complexities for the iOS platform.
| App Complexity | Average Design Cost |
| --- | --- |
| Simple | $2,500 to $3,000 |
| Medium | $5,500 to $7,500 |
| Enterprise | $12,500 to $17,000 |
If you do not want to develop a separate app for Android and iOS, you can also go for cross-platform development and create a common design. This common design will work on Android, iOS, and various other mobile operating systems.
However, one will have to compromise on the efficiency of the design by choosing this approach. Here is how much it will cost to design a cross-platform app.
| Type of App | Average Cost |
| --- | --- |
| Simple | $3,000 to $3,500 |
| Medium | $7,500 to $10,500 |
| Enterprise | $14,500 to $19,000 |
Note: The charges given above are for designers located in Asia. The actual cost may vary depending on the region you choose for designing your app, as app designers charge different hourly rates in different countries.
Step-wise App Design Cost Breakdown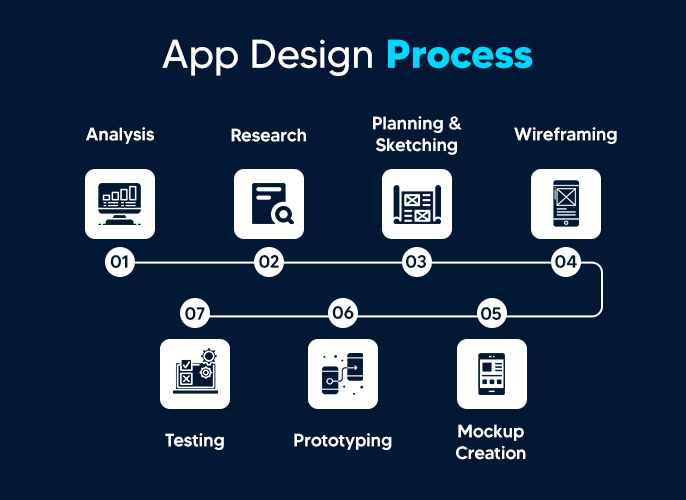 Until now, we have discussed the overall cost of designing an app. However, one must also look into the app design price breakdown to effectively optimize the final design cost.
Moreover, it is important for businesses to know this stage-wise cost breakdown to understand the complete process of designing an app.
This is because one of the major reasons for app failures is that businesses fail to follow the complete designing process, which results in compromised efficiency and functionality.
When you hire an app design agency, everything is taken care of by the appointed outsourcing agency. These app design and development agencies have a project manager who oversees the project and ensures to deliver the best quality results.
In the case of hiring a freelance designer, it is highly essential to understand the complete app design and development process to ensure optimum quality output. This is because freelance UI/UX designers tend to focus on finishing the assigned task, irrespective of whether or not the complete processes are being followed.
Moreover, many freelance UI/UX designers work on multiple projects at once, further declining the quality of output. To sum it up, a freelance UI/UX designer's outputs are often more quantitative than qualitative.
When hiring an in-house design team, you will either need to hire a project manager or supervise the complete development process by yourself. Regardless of whether you hire a project manager or undertake your project's supervision by yourself, it is always good to have extensive knowledge of the development process.
Now that we are clear on how each approach will impact the final app design, let's take a closer look at each stage of designing an application. Please keep in mind that each step of the app design process will impact the design cost of an app.
Market Analysis
Time Required For This Stage: 25 hours to 35 hours
Estimated cost of completion: $500 to $700
There are two parts of an application: the front-end and the back-end. The front-end is what the users interact with, while the back-end is all the processes taking place in the background with this interaction. Factually speaking, 70% of the user experience is determined by the quality of front-end development.
As a result, it is essential that you find highly qualified UI/UX designers that have the capability to create an efficient front-end design for your application. To add to that, business analysts have a critical role here, even before the app designers.
To elaborate, business analysts are the ones to examine the business goals and dig into the market to find the most demanded and unique features.
Once the business analyst team has determined these features, the designers can plan the screens accordingly and create a rough sketch of the application.
Therefore, without a business analyst, it is difficult to determine how much effort one needs to put into a project. The analysis phase of the application is highly critical and helps in avoiding an unnecessary hike in the final app design costs.
Competitor Research
Time required for this stage: 35-45 hours
Estimated cost of completion: $700 to $900
There is high competition in every industry at the present time. In order to differentiate from competitors, one needs to conduct thorough market research during the designing stage.
Moreover, not conducting sufficient research can result in failing to understand the target market's demand, resulting in a compromised user experience.
Therefore, the app designer needs to research various aspects of the app, such as colors, useful elements, their style, animation effects, profitable elements, element placement, etc., to create a high-quality and user-friendly design that is at par with the market's needs.
One of the most popular ways to research the market is by studying competitors' applications. This can help an app designer to compare their application with an already successful one and realize the lagging areas.
Moreover, the app designers also need to identify which elements provide the best user experience and add them to the design. This is possible through extensive market research.
It is also necessary to understand how monetization design can be incorporated into the application. Lacking to focus in this phase can result in a huge failure of the end application.
It is worth knowing that some UI designers charge an extra fee to focus on this aspect. On the contrary, some businesses try to avoid spending on research to cut down on design charges for the app.
Planning and Sketching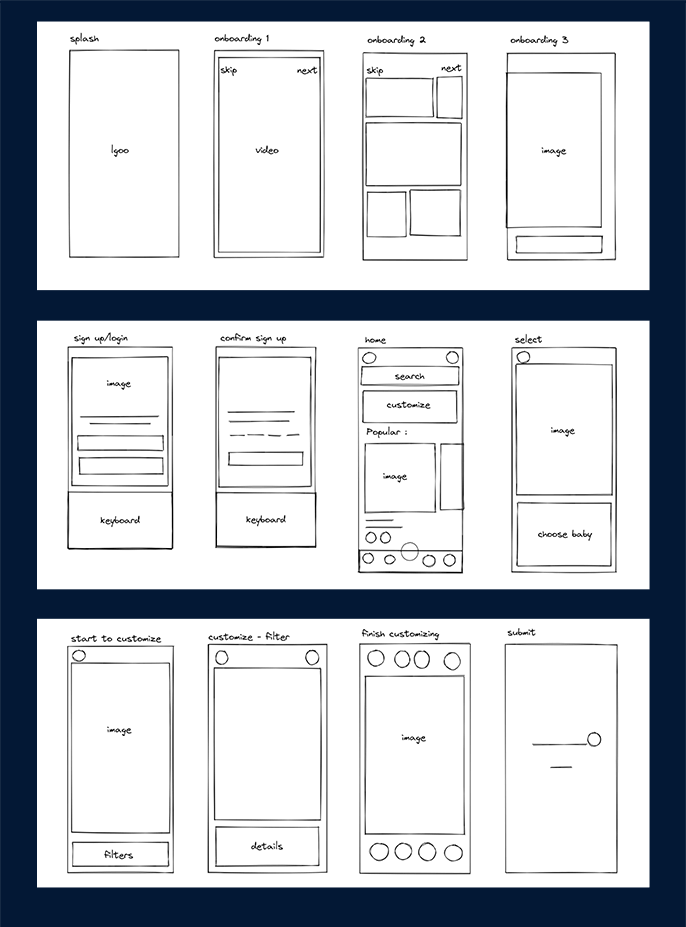 Time required for this stage: 35-40 hours
Estimated cost of completion: $700 to $800
Researching the market and brainstorming the features leads to the creation of various unique ideas. Once the first two phases are completed, designers have a list of elements ready with them.
Moreover, by this time, they are also aware of which screens are connected to which one. However, the ideas are unorganized at this point and need to be sorted.
In this phase, the app designers work on creating different sketches by placing different elements in different places. With the collective opinion of the business analyst and the designer, it is possible to make an aesthetically appealing and functional app design.
Moreover, these sketches enable businesses to get a rough idea of their app's screens and make changes before the actual design is made.
This is because sketching is a pre-design stage, and making changes in the app design is possible and feasible at this point. One of the main objectives of this step is to have ample planning and control app design costs which can rise with future changes.
Wireframing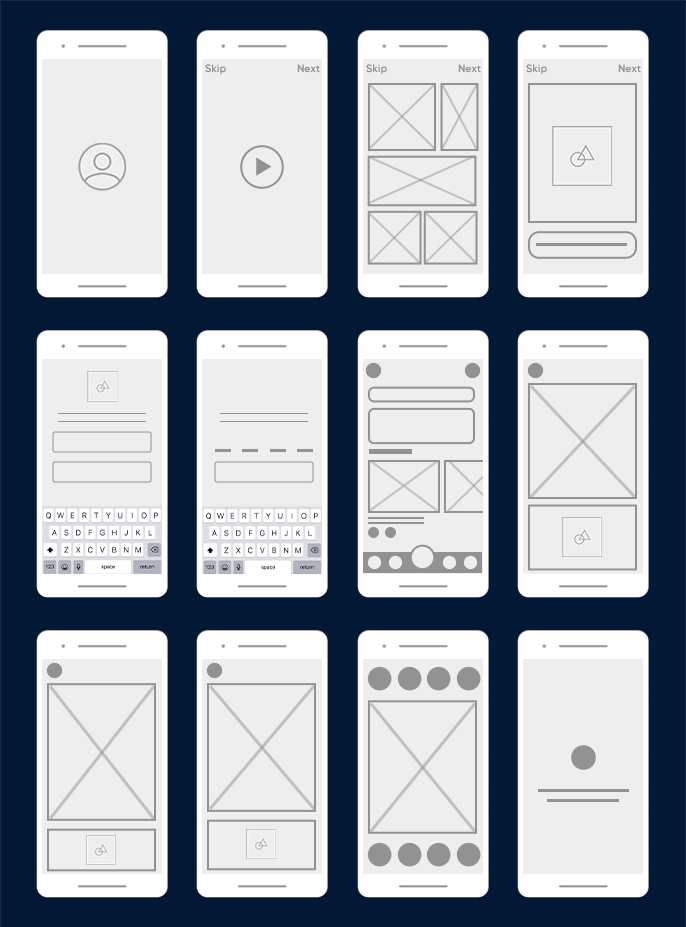 Time required for this stage: 10-20 hours
Estimated cost of completion: $200 to $400
Wireframing is one of the most crucial stages of designing a mobile application. This step involves creating a digital version of the pen and paper sketch created in step 3 and is the foundation of the app design process.
It is common for UI/UX designers as well as business analysts to overlook certain aspects in the previous step, which can be rectified in this step to avoid unnecessary hikes in app design costs.
In short, wireframing enables the designers to ensure that the proposed design is at par with the business's requirements and avoids deviations. Moreover, it is easy for the designers to make changes to the design wireframe, making it feasible to add new features.
It is important to note that most freelance designers will skip this step to reduce the overall price for app design, but an agency will ensure to provide a wireframe of your application.
At last, the designer and business analyst can conclude on the following concerns:
Which UI elements are highly important to the user?
What is a secondary consideration element?
Where is the element going to be placed?
What kind of content will appear? How many words will there be on the screen?
Successful completion of this stage will result in the designer having all the data for the application ready and organized.
Mockup Creation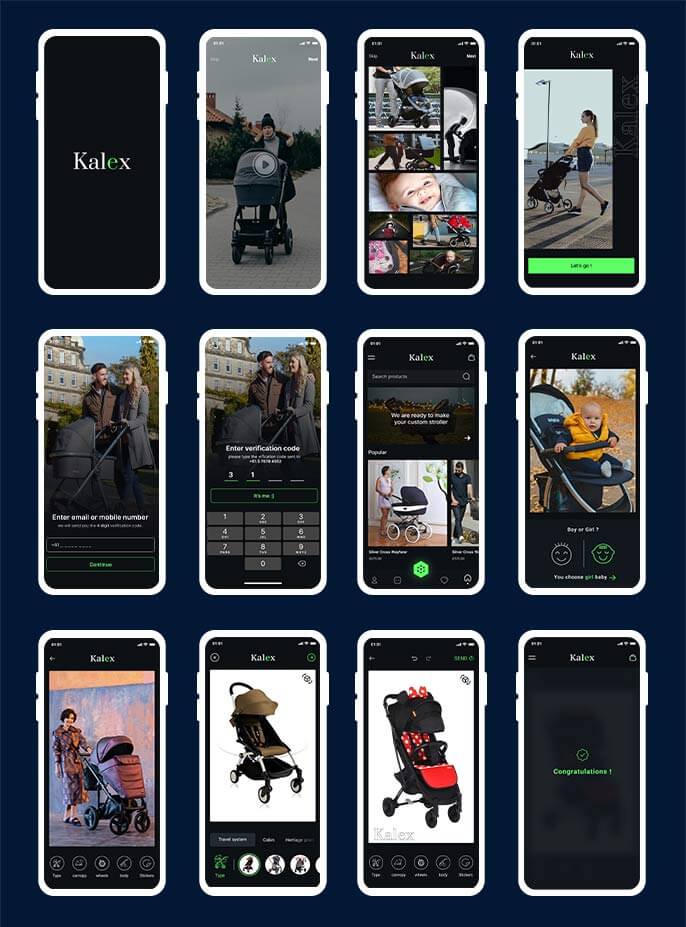 Time required for this stage: 35-120 hours
Estimated cost of completion: $700 to $2400
This stage determines the final appearance and interactiveness of the application. One can add, remove and change the shapes, colors, and components of the app design mockup to enhance its appearance.
It is important to note that mockup creation is not the actual designing stage but a static illustration of what the final app design will look like. Moreover, the app designer also conducts various A/B tests during this stage to ensure optimum output quality.
It is commonly known that UI designers work with various design elements such as font size, font family, icons, space between components, image selection, etc. The chances of bugs occurring in design are high, and therefore, a lot of criticism is involved in the design mockup to save mobile app design prices.
Moreover, this step further optimizes the design, and therefore, it cannot be denied that this step enhances the user experience (UX) of the app.
Prototyping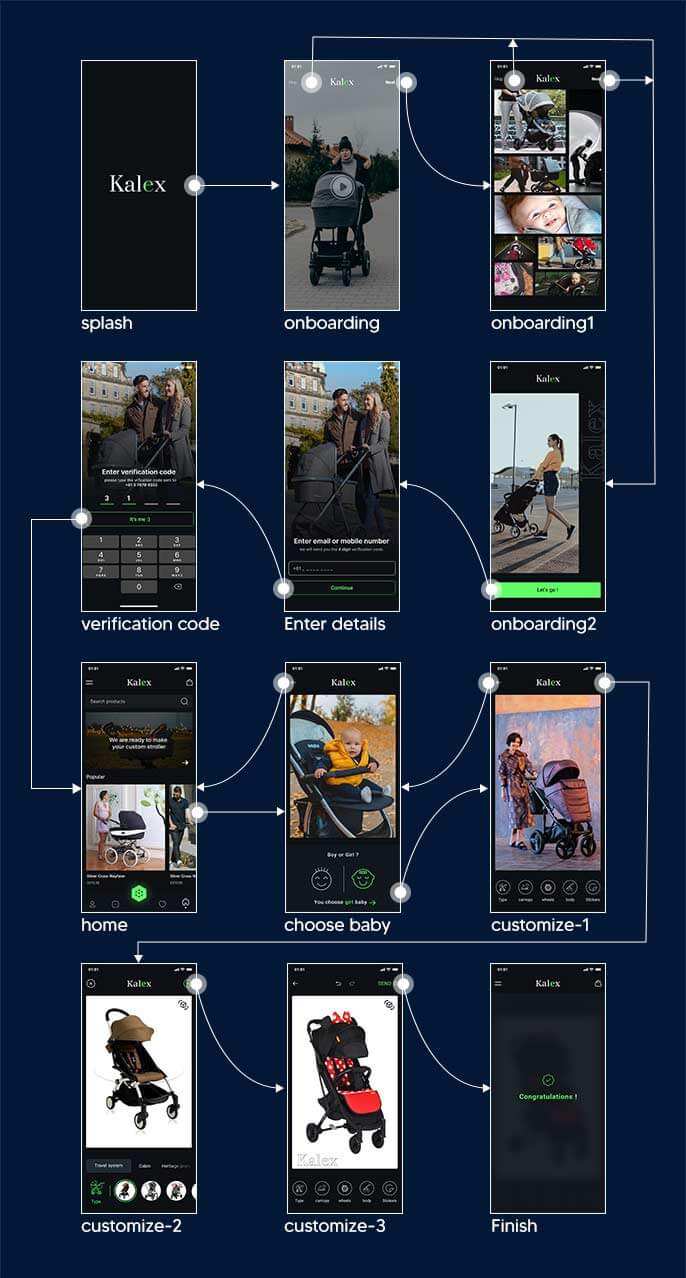 Time required for this stage: 7-12 hours
Estimated cost of completion: $140 to $240
The prototype of an application displays all the components of the app in a working model. This is different from the previously mentioned models, as they can demonstrate the visual appearance of the application's screens.
To simplify, the prototype model is interactive and demonstrates how the application will work in action once launched. This is at par with the already launched application and allows businesses to actually use the app even before its development.
In the prototype, the app designer can work on the following types of concerns:
How will the users interact with the app?
Depending on the user's action, which screen will be displayed next to or previous?
How is the user experience? How can it be improved?
Is there a better alternative for representation (A/B Testing)?
It is important to note that the app designers charge extra if any changes are needed post prototype creation. Moreover, this step is highly essential for businesses looking for investors, as being a working model, the prototype can convince people to invest in the app.
Design Testing
Once the design team has delivered the final prototype of the application, the business analyst and quality assurance team go ahead with testing this app design. This is a highly critical stage as business analysts can evaluate if the designed app is fulfilling the market's needs and business objectives.
This will allow the business to predict how the app will perform in the market once launched. In addition, the quality assurance team will ensure that the app is of optimum quality with the help of user test cases.
Businesses often skip this step to cut down on app design costs. However, this stage is the foundation of the app's success and helps to gain a foothold in the market.
Moreover, testing enables businesses to identify and eliminate errors and bugs before the actual launch and decrease the chances of the app's failure.
This was it for the app design process and the design cost breakdown for a mobile app. It is essential to know that most of these steps often end up getting skipped by the app designing team.
However, it is necessary to precisely follow each of these steps to avoid unnecessary hikes in the app UI design costs in the future.
Moreover, all of these steps are focused on optimizing the application and rectifying them. As a result, neglecting the importance of any of these steps can most certainly result in an increased cost of application design. Moving further, we will discuss the do's and don'ts of designing a mobile app.
Looking for high-end app design services at the best rates?
We are the leading UI/UX design agency offering value-driven design solutions.
Do's and Dont's of Designing a Mobile Application [Infographic]
It is a well-known fact that user experience is one of the most important aspects of a mobile application and is affected by various side factors. Therefore, in order to create an efficient and user-friendly application, businesses invest in hiring additional resources that enable them to understand user demands and preferences.
Moreover, businesses undertake constant app upgradation to meet the changing user preferences and boost their profit. However, if designers are already aware of these user preferences, a business can significantly save on costs for designing and developing apps.
If you are hiring an outsourcing agency, then it is necessary to ensure that the project manager is aware of the latest market trends to guide the team towards an optimum app design.
On the other hand, if you choose to hire freelancers or an in-house team, you will not only have to overlook the complete app designing and development process, but will also have to keep up with the latest UI/UX trends to get the best results.
Therefore, it will be necessary for you to know the technical aspects of development and designing and their impact on the user experience.
Alternatively, the business owner may choose to hire a project monitor that overlooks the complete design and development process. Even though it might cost more to design the app this way, it will ensure high-quality application design.
Here is an infographic that provides you with insightful tips on what to do and what to avoid while designing a mobile application.

Want to Hire an App Designing & Development Agency? Here's What You Should Know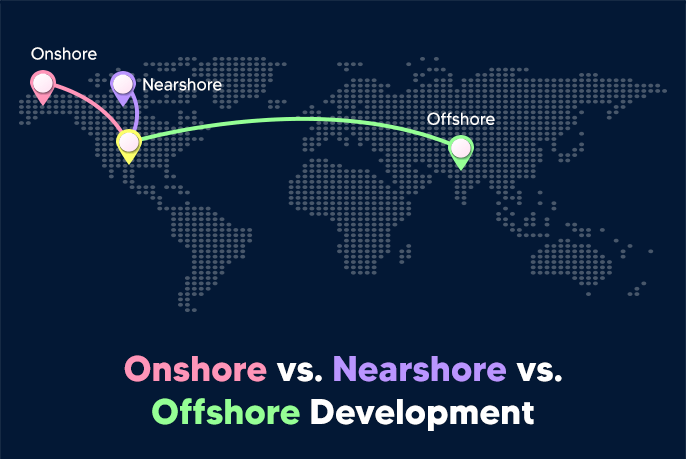 Hiring an agency is one of the most popular means of outsourcing design and development. In this case, all the requirements of a business are taken care of by the agency. As a result, the outsourcing agency is responsible for planning, research, sketching, wireframing, mockup, prototype, and testing of the application's design.
Another approach to outsourcing is hiring a freelancer, in which a business appoints an individual or a group of people to work on the project. However, in this approach, there is no guarantee that the appointed freelancer(s) will adhere to each and every step of app design.
Moreover, many times businesses hire freelancers just to cut down on app design costs and end up compromising the quality of their application.
There is a tremendous difference between hiring an agency and a freelancer to outsource app design and development. Generally speaking, most businesses looking for high-quality app development prefer to choose an outsourcing agency.
In this approach, a business has three options: onshore, nearshore, and offshore design & development. Here is how each approach is different from the other.
Onshore Approach
In the onshore approach, a business appoints an app design and development partner located in the same country as theirs. In this option, there are fewer chances of communication gaps occurring due to language barriers and time zone differences.
Moreover, a business can easily visit the agency to discuss the project plan and get follow-ups. However, choosing an onshore agency can turn out to be a costly affair for businesses located in regions where app design costs are high.
For example, the cost of designing an app with an onshore approach can turn out to be expensive for businesses located in Europe and Latin America.
Nearshore Approach
In nearshore approach, a business chooses an app design and development outsourcing agency located in its neighboring countries. Generally speaking, the time zone and cultural and language difference between two neighboring countries is less to none, reducing the chances of communication gaps.
This makes nearshore approach a popular choice among businesses. Moreover, since the agency is located in a neighboring country, it is considerable for business owners to visit the agency and discuss the important aspects of the application.
However, since the business owners will need to travel to another country, the overall app design cost will go higher and might not be economically feasible.
Offshore Approach
Offshore design and development is undoubtedly one of the most popular and widely chosen approaches in outsourcing app development and designing. In this approach, a business owner can choose an agency located anywhere across the world, except in their own and neighboring countries.
As a result, while choosing the offshore approach, one can expect to work with different time zones, cultures, and languages.
However, many app design and development agencies are working on overcoming these challenges by hiring mediators for language translation and working in their client's time zone. This has enabled numerous outsourcing agencies to ensure seamless communication.
One of the major reasons for businesses to choose this approach is that one can select an agency from a location where designing costs are low and, therefore, significantly control the cost of app designing.
There are three options that a business has when outsourcing app designing and development. Each of these options will impact the final application UI design costs. Which of these options to go for is a choice that the app owner has to make after weighing down the pros and cons of each approach.
Moreover, there is another model of outsourcing, which is the hybrid model, in which an outsourcing agency's designers work in the app owner's office as full-time employees during the project.
Now that you are aware of the three approaches to outsourcing app design and development, you are all set to design a high-quality and seamless app.
Want to calculate the cost of designing your mobile application?
We are design experts offering start-to-end assistance to your requirements.
App Design Costs: Summing Everything Up
It is highly difficult to precisely estimate design costs for mobile apps. However, this article has covered all the major factors that influence this cost. From the app designing process to different designing locations and app designer prices, we have given detailed information on all the aspects.
From our experience in designing business applications, we can say that an average app can cost anywhere from $5,000 to $30,000 to be designed. However, these are estimates, and the exact cost depends upon various factors mentioned in the blog.
You can use these factors to create a highly efficient and appealing app design that will ensure market success. Moreover, by using the design tips given in the infographic, you can figure out what to add and what not to do while designing an application.
All that is left is to choose the right development approach and get started with the app design process. If you are looking for an agency to design your app, you can most certainly connect with us.
The Gray Bear has been a pioneer in creating highly functional and efficient app designs that are specific to your industry. With more than 8 years of experience in designing and developing applications, we are the leading app development outsourcing agency based in the US.
We also provide dedicated developers and designers to work in your office for a particular project. If you have a business idea and want to get started on it, do connect with us today and get a free expert consultation.