How long does it take to build an app? This is one of the most frequently asked questions after finding out how much does app development cost.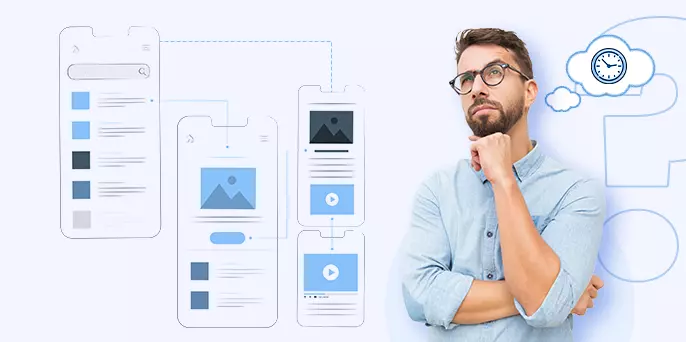 According to allied market research, the market size of mobile applications is expected to reach 407.31 billion USD in the next four years, with an estimated CAGR of 18.4%.
On average, a person spends 3-4 hours every day on a mobile phone. They have become reliable on mobile apps for their on-demand services and other day-to-day requirements.
This has changed the way businesses have started looking at the future. They are now adapting to the digital world and want to develop an app for their business.
Therefore, it becomes mandatory to bring the business online to provide that ease to the customers they are looking for.
Owing to digitalization, businesses can now automate their operations and management using mobile applications with minimal human interaction. As a result, the overall business operations management becomes smooth and effortless.
There is no specific formula to determine the time required for developing an application. Various factors are kept in mind to calculate how much time app development will take.
Hence, we break down this article to describe the factors determining the timeline to develop applications. This way, even non-technical business owners can evaluate their projects' timelines.
We strongly recommend you bookmark this article, as we will walk you through the exact process that decides the timeline for your app development.
Before we proceed, let's take a look at which type of application you will need.
Determine Which Type of Application Do You Need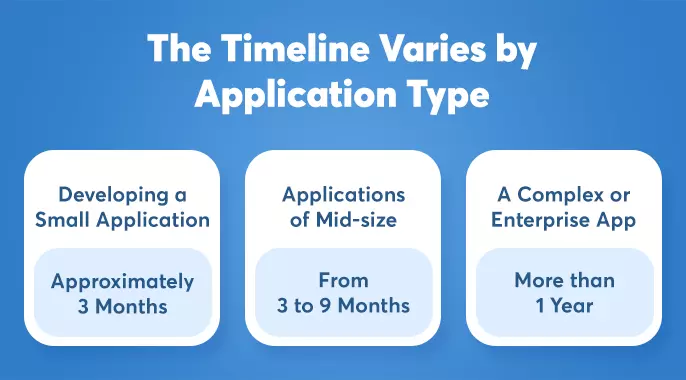 Business owners spend 3 months to more than one year building their applications. But not to worry, your application might require just two months to develop as every application model is unique.
Some applications are simple to make, as they require less time to build. Moreover, the average time to develop an app can take less than three months.
If your application requires additional features to get customer loyalty, the timeline can extend to 9 months.
On another end, for some applications, i.e., enterprise-level applications requiring very complex features, the timeline to develop an app can be extended to more than one year.
No formula gives an idea of whether your application belongs to the small size, mid-size or large (Enterprise version). However, you can use the following formula to get an estimate of your application type.
First, calculate what features you wish to add to your application, and if there are about 8 to 10 features, your application is small-sized.
Likewise, if your app requires 10 to 15 features, it is medium-sized.
Finally, if your application is expected to have more than 15 features, it is considered an enterprise application.
Consult the best development company to guide you with the application of any size and number of features. The most proficient business analysts can discuss with you within 24 hours of reach.
Choose the Right Development Platform
It is essential to decide the development platform you want to proceed with. You should be informed about the target audience, whether they use iPhone or Android.
If you are a non-technical person, we let you know that the iPhone application can't run on Android and vice-versa.
Developing an app on a single platform might cause a loss to your business. We strongly recommend creating your app on both platforms.
If you choose to develop your app on both platforms separately, it is referred to as the native app development approach.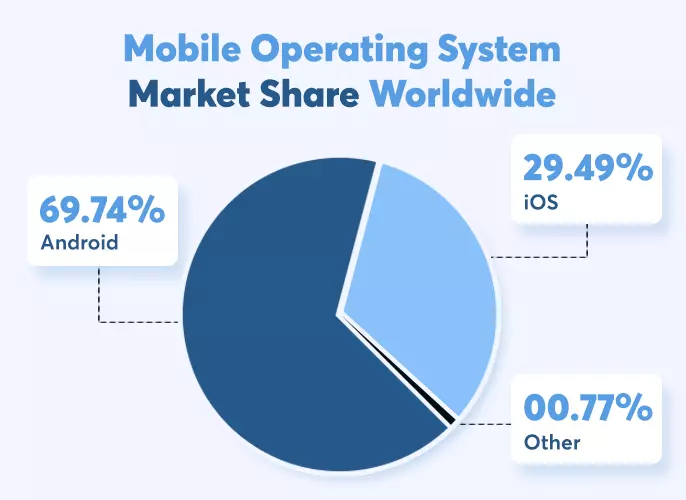 Sometimes, businesses don't have enough budget to develop an app, and they choose an option like developing one application running on both platforms. This is known as cross-platform development approach.
In a cross-platform approach, the time taken in the app design and development process is comparatively less than native. This is because in the native approach, development is done separately for Android and iOS platforms.
How Do You Determine Which Approach to Choose?
The native application development approach is ideal if you have a high budget and do not want to compromise on app performance. Moreover, choose this approach if your business falls under medium-scale or large enterprise.
Otherwise, you can select cross-platform app development. But we strongly recommend the native development approach from every point of view.
Now, let's understand your most frequent question – 'how long does it take to code an app'. There are so many factors we break down to determine a timeline. Stick with us to get the exact time to develop an app.
Start-to-end Development Process & Its Timeframe
The development of an application passes through several stages. Each stage in the process has its share in the total time it will take to develop an application. Every stage is interdependent on the other and therefore cannot be skipped.
Here is what the process looks like,
Development Options
Analysis of Ideas
Documentation
Design Phase
Development Phase
Deploy Application
In case it is difficult for you to understand anything written in this blog, do not hesitate to connect with us.
Our business analyst will be more than happy to assist you with any of your doubts and concerns.
Stage 1: Development Options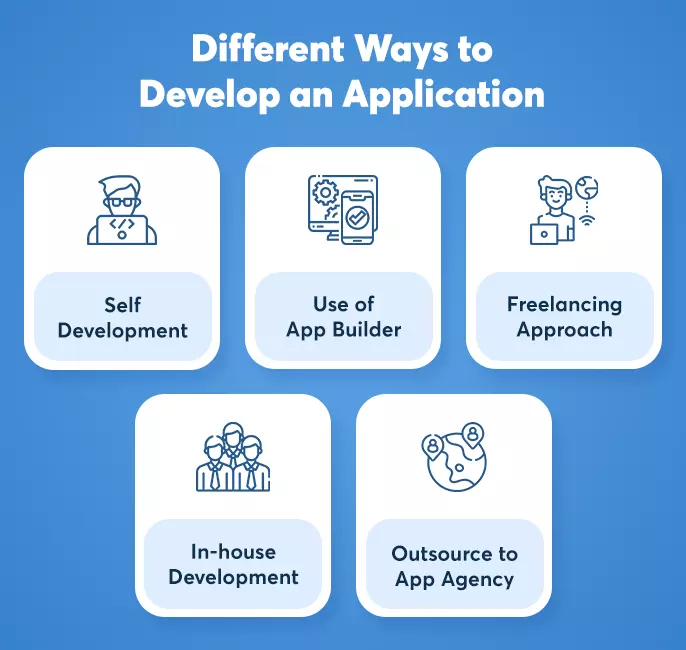 In order to develop an application, one needs to determine which option is optimum for their requirements.
A few options are to build an application yourself, outsource development services to a company, use an app builder, hire a freelancer, or even hire an in-house team.
Each development method comes with its own advantages and disadvantages and impacts the app development timeline.
We will walk you through all of these possibilities, but choosing an option depends entirely upon you.
Here is the first option,
Self Development
Developing an application yourself is a good option if you have a grip on the technical aspect of development. However, this is not recommended option based on surveys.
This is because before being launched, an application goes through various stages such as designing, development, and deployment.
A slight lack in any of these fields negatively impacts the overall interface of the application. Therefore, external assistance of a specialist will be required at some point.
This increases the overall development cost and, more importantly, time to develop an app.
Use of App Builder
App builders are a good option if your application includes less functionality and static information (Which can't change over a time period). Businesses that don't have a budget to develop an application from scratch usually prefer this option.
However, businesses that need to add custom functionality to their application get stuck in this option. As a result, they need help from an external technical person. This indirectly increases the mobile app development timeline.
In-house Team Development
Developing an application from an in-house team is one of the best options when you have a high budget, as it will give the best output.
But the only negative point about this option is that it requires time and effort to find the right team that joins your company and develops an application.
And if you hire the wrong resources, then without a doubt, the average hours to build an app increases.
Freelancing Approach
Upwork and Freelancer are a few of many platforms where you can easily find app developers who can work on your project. But in this approach, there is no guarantee of the application's quality.
Commonly known issues with this option are lack of technical knowledge, global time zone difference, and leaving the project mid-way.
This ultimately requires a lot of time for app development and causes integrity issues.
Outsourcing Development to Agency
This is the most recommended option for all kinds of development requirements. Here businesses need to find the best app development companies from the internet. One needs to look at their portfolio and select the right company for their needs.
When selecting a development agency, it is necessary to ensure that the company has a proficient team of experienced developers. This team should have the ability to work on any platform of your choice with transparency at each stage of development.
We recommend you choose an offshore development company. They can give you a robust app within the timeframe at an affordable cost.
In case you want to outsource development services to an agency and wish to save your time, you can connect with us. We are the top development company that has catered 350+ app consulting globally.
We have completed 80+ projects so far, and the figures are constantly increasing. The Gray Bear offers free consulting to any client who wants to expand their business digitally.
Stage 2: Documentation
Documentation is undoubtedly the most critical part of the development process. However, many app developers and businesses tend to overlook and skip this stage.
Every requirement of the application needs to be present in the documentation. The adequately structured condition means less time wasted in struggling to understand the project's requirements.
If you are working with an app development partner, you must include company contact details and other required information with your project brief.
Below mentioned points are a must to have in the documentation. This ensures that the development partner can rightly understand the project.
Your project goal and success metrics
Request for proposal (RFP)
A non-disclosure agreement (NDA)
Budget range
Approximate delivery rate
You might need to double-check the "request for proposal." The bidding and quotation of the development agency depend upon the RFP submitted by the businesses.
RFP is your foundation based on which you can also negotiate with the development company. RFP takes authority from a development agency to do things differently.
You can also encourage development partners to offer more suggestions and possible ideas.
This stage is critical. Because it is about understanding your project needs, it will typically take between 1 to 2 weeks to complete the entire process.
Stage 3: Analysis and Validation
People think the analysis of the idea means just validating the possibility of implementation by technology, but it is way more than that.
Here, business analysts get in touch with app owners to understand their market research, app user, and app problem. After that, the business analyst analyzes the idea and measures the possibility of the app's success.
Here, business analysts analyze platforms (Native or Cross-Platform) to develop an application based on a target audience.
Thereafter, upon the choice of the platform used, the business analyst will calculate the estimated timeframe for development (native or cross-platform development).
After that, they extract the most needed features for the app, which are known as MVP. Later the business analysts validate that no features are hindering the app's performance.
Finally, the time to develop the MVP version is determined. This version can be launched earlier in the market and can help businesses to check whether ideas are working or not.
You can expect this stage to take 5 to 6 weeks of time. This is because this stage involves various calls between the clients and development partners.
These calls ensure there are no faults caused by lack of information during the designing and development phase starts.
Stage 4: Design
Design is an essential part of an application because the end-user first interacts with an app visually. An application with an unappealing design has higher chances of diverting the customers to the competitors.
App designers curate 2 to 3 appealing combinations in the design stage and test their user experience.
Depending upon the results of user experience tests, one can expect to get the best design for their application. This design testing is done based on different criteria of user needs.
By the end of this stage, businesses attain proper clarity for their final application, like
Do the features in the app hold any value to the users?
Are the users facing any difficulty in navigating the application?
Why should the user use the application?
What was the user's experience while using the application?
The design phase takes anywhere between 8 to 12 weeks. As more features are included in the application, more screen is needed to design.
As a result, it contributes to the final time to complete application development.
Stage 5: Development
By correctly following the previous four steps, you can largely avoid major changes amid the app development process. This is because making changes in the app plan after starting the development process can significantly delay the development timeline.
The process of developing an app is bifurcated into two parts, i.e., the front end and the back end. The front end is what a user sees and interacts with while using the app. Contrary to this, the back end is all the background processes that take place while interacting with an app.
For example, Signup is a page where buttons and text fields are presented and is called the front end. When the user clicks on the button, at the same time, a background process works to give a quick response. This is known as the back end. Once you get the response from the back end, it will redirect to the desired page.
The front, as well as the back end are significant while creating an application. Without the front end, a user can't interact, and an app can't function without the back end.
Here we have also provided details of what is included in the front end and the back end.
Backend Engineering Consist of –
Server
Database
User Management
Data Integration
Versioning
Frontend Engineering Consist of –
UI Development
UI Design
Frontend Logics
Caching
Wireframing
Synchronization
Developing an application is a critical process and usually requires 8 to 11 weeks.
This is because various aspects of front-end development and back-end development are considered.
Stage 6: Testing
The testing stage evaluates the application's performance based on various pre-defined criteria. This ensures that all the bugs are identified and eliminated prior to app deployment, and the user experience is smooth.
Testing helps in achieving clarity on various questions regarding app success, such as:
Can the application crash in the middle?
Is it easy to hack the information present in the app?
What if some features in the application are not working correctly?
What if the UI design is perfect, but the development is not?
How good is the app's performance?
These are a few essential aspects while developing applications. It is mandatory to run alpha and beta tests before launching an app to be free of errors.
If you skip the testing stage, you may encounter a bug post-deployment. This can further increase the average app development timeline.
Testing is a highly important stage in the whole process. This stage, on average, requires 3-4 weeks.
During this time period, various errors and faults in the app are identified, and user experience is checked.
This stage makes sure that the app is free from bugs when made available to the actual end-users.
Stage 7: Deployment
Android and iOS are two of the most common platforms for deploying apps. To have your android application live, you have to apply in Play Store. It's the same with an iOS application with the App Store.
Both have guidelines that take time to review applications. Typically Play Store takes less time as compared to App Store. Below are the details that are required to apply.
App Description
Icons
Screenshots
Video or Image Demonstration
App Store Optimization
The point to note here is Apple has a strict and detailed review process for iOS apps.
In some cases, the App Store rejects the proposed applications to improve some features or remove them. In this case, there will be an increase in the final app development timeline.
App deployment is the final stage of the application development process. This step takes one to two weeks.
The app is reviewed based on guidelines before being made available to the end-users.
The application is then finally made live on Play Store (Android apps) and App Store (iOS apps).
This was the complete and detailed answer to the question, "how long does it take to create an app." But this is not the end. We will now discuss a few points that slow down the process of developing an application.
Factors Which Can Increase Timeline of Your App Project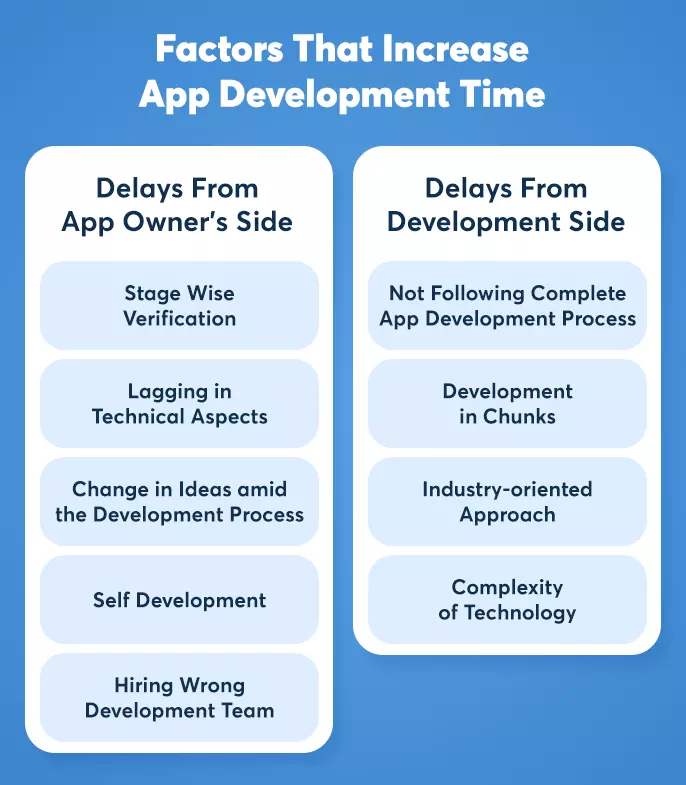 Previously we discussed different factors that contribute to the final app development timeline. We have observed that the average timeline for app development is around 3 to 8 months.
But this timeline can exceed from the business's end, as well as from the developer's end. First, let's discuss the points from the app owner's end that delay the overall development process.
App Owner's Points Which Delay App Development Timeline
Stage Wise Verification
Do you remember stage 1 of the development of an application? If you choose to outsource the development of an application to an agency, then skip this point. This is because the project manager takes care of everything when you outsource development to an agency.
However, if you choose any other option, then make sure that you verify the outcome at every stage. Otherwise, if any fault is found in the middle or the end, it will directly increase the timeline for Android and iOS app development.
We have seen in our vast industrial experience of development that lacking stage-wise verification increases the chances of extending the app development timeline.
Lagging in Technical Aspects
Choosing an outsourcing company to develop an application provides a technical advantage. The project manager keeps an eye on the entire project from the technical and non-technical sides. If any issue arises on the technical side, a project manager can easily recognize it.
But if you choose options like app builder, self-development, freelancer, or in-house development team, you must know technical things. Otherwise, if anything goes wrong on the technical side, you can never find it.
For example, let's say you choose the freelancer approach. Consider average app development time is four months, but freelancer gives a timeline of 8 months. You will never encounter an exact timeline due to a lack of technical proficiency.
Change in Ideas amid the Development Process
A common problem every app owner has is changing ideas amid the development process. Minor changes do not significantly impact the app development timeline. But sometimes certain changes require starting the development again from scratch.
This will increase the overall average time for app development. Not only this, too many codes are bound to develop a final application. As a result, changes in the middle of the development process can also lower the overall application performance.
Self Development
Many businesses prefer to go for self-development of applications and either use their existing knowledge or rely on app builders.
However, this does not work when the app requires customization in certain aspects. The overall process of creating an application involves designing, development and deployment.
Therefore, it becomes necessary to take the help of a specialist at a certain point. It will become time-consuming to hire the right specialist and hand over the project in this situation.
Consequently, this will increase the timeframe for developing an app.
Hiring the Wrong Development Team
Finding and hiring the right team is essential while developing an application. However, sometimes businesses settle for less skilled developers due to budget constraints.
Even though these developers are able to fulfill the project's timeline, the quality of the resulting apps is often low.
Less skilled developers usually skip various crucial steps such as documentation and testing, resulting in bugs. It is, therefore, necessary to find and hire the right development team.
Ideally, developers with vast experience and extensive technical knowledge are preferred.
Factors from the Developer's End That Slow Down Development Process
Not Following Complete Development Cycle
We discussed all the seven stages of development that are essential and interdependent on each other. Skipping any step means increasing the deadline of app development.
Not just that, sometimes, businesses end up facing massive losses resulting from negligence in the development cycle.
For example, essential information gets leaked when skipping the proper testing stage. In the end, businesses again need to test applications, solve security bugs, and wait for App Store/ Play Store approval to deploy applications.
There are countless problems encountered while lacking to follow the complete process of developing an app. In the end, this increases the timeline for the app project and even the cost.
Development in Chunks
Various companies fail in this part which directly affects the delivery timeline. The development rules start with MVP development.
It is always preferred to divide MVP development functionality into small chunks and test them. This process should be repeated until the complete MVP gets developed.
Once developed, the MVP gets deployed to the store. After MVP is deployed, additional features are developed and deployed one after another. By following this procedure, businesses can get faster applications and test their ideas.
Many times, the development team does not follow this process. And due to the lack of systematic development and testing, it raises a big issue of bugs. Resolving these bugs takes more time and finally leads to a higher deadline for a project.
Industry-oriented Approach
Every industry requires different types of features and functionality. For instance, education apps require the use of AR and VR technology. However, the manufacturing industry relies more on IoT technology.
In other words, every industry has its required technology to meet the end user's goals. The choice of technology will determine the time it will take to develop an app.
Complexity of Technology
There are more than 100 technologies that work behind application development. The choice of technology depends on mutual understanding between app owners and developers.
Undoubtedly, technology enhances the user experience. But, it also increases the timeline of app development due to the complexity of integrating with a mobile application.
Sometimes, finding the right resource is difficult to integrate technology needs, indirectly raising the timeline.
So, this is all about how long it takes to develop an app and factors that elongate the development timeframe.
Now, here are a few points that speed up the development process.
6 Ways to Speed up Mobile App Development Process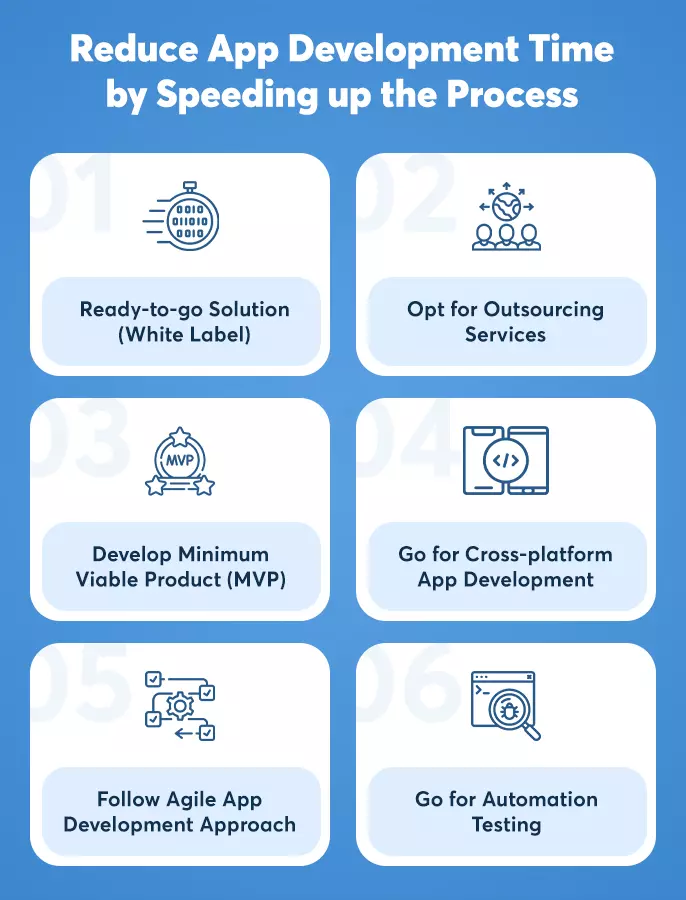 There are certain limitations when it comes to digital business expansion. Some businesses cannot afford to wait for long to get their app developed. While for other businesses, budget is what restrains their expansion plan.
This section will be useful for you in any of the above cases.
Option 1: Ready-to-go Solution (White Label)
Nowadays, business owners get inspired by well-known apps like Uber, UberEats, and Instagram. On the other hand, development companies have witnessed a lot of inquiries from their clients regarding the development of well-known apps.
Few of them develop such an app and offer it with less cost. This is possible because they have to write code just once and deliver it to the app owner.
A business can gain an advantage as they have to invest less amount for the app. Moreover, the development agencies save costs as they do not have to code again and again. There is no utilization of additional resources, just minor changes in the app UI are required.
The applications developed by these development companies (offering white label app solutions) own licenses. The applications developed by these companies are similar to well-known apps but have changes in the user interface (UI).
As a result, app owners do not have to worry about copyright or other legal issues.
It is also possible to customize apps developed with white label solutions whenever required. However, this raises the overall cost of developing an app.
To modify a ready-made application, you need to discuss it with the development company offering the solution.
It is helpful to ask questions like 'how long does it take to make an android app?' and 'how long does it take to build an iOS app?'. Also, don't forget to question the additional costs incurred for app modification.
When choosing this solution for developing an app, it is always better to add a unique feature that is not present in a well-known application.
This will differentiate the application, giving a competitive advantage and will encourage more users to try it. Because why would customers shift from already used apps to the newly launched app?
Option 2: Opt for Outsourcing Services
In starting part of this article, we have discussed ways to develop the app. If you don't remember, then let's have a quick look again.
Self Development
Use of App Builder
Freelancing Approach
In-House Development
Outsourcing Development To Agency
We strongly recommend the outsourcing to agency option from the above five options. Here are a few reasons why:
Saves additional money
Increases operational efficiency
An immense pool of talent is available
Free consultation with new ideas
Awareness about risk factors
No requirement for technical knowledge
Get quality outcomes in a short time span
Option 3: Develop Minimum Viable Product (MVP)
MVP means developing the most mandatory features of an application first and launching the app. Additional features can be created and deployed one by one later. It can be said that MVP is the beta version of the app project.
Through this, one can get to know their app idea valuation. Along with that, the app development timeline also gets reduced. This often helps businesses significantly to overcome huge losses.
Many well-known businesses like Instagram, MailChimp, and Facebook started with the MVP approach.
Option 4: Go for Cross-platform Development
This option is not preferred and is ideal only for app owners who are either on a low budget or have time constraints.
Developing a separate application for both platforms (Native development) also takes longer. On the other hand, cross-platform development can significantly reduce the average app development time.
Option 5: Follow Agile Development Methodology
Disciplined project management is vital for creating a successful application. Agile methodology is an interactive technique where the project manager divides the complete application into smaller parts.
In other words, small pieces of source code are developed and tested. This results in the faster development of an application and ensures high quality.
Several development companies follow the agile development approach to cut down on the development timeline.
Agile development helps overcome one of the major risks of creating an app. The developers can rapidly identify and rectify the bugs with the agile approach.
This allows them to save time, which would otherwise be consumed in re-writing the code. As a result, this approach is ideal for app owners as well as for app developers.
This method avoids the involvement of extra costs which would otherwise be incurred to correct the errors after complete development. Moreover, this approach provides a guarantee of quality and on-time output.
Option 6: Go for Automation Testing
Automation testing is often one of the most neglected techniques for app testing. App owners and developers prefer to go for manual testing.
However, it is a commonly known fact that manual testing is prone to human error. This error factor gets eliminated in machine testing. Here are a few reasons why to choose automated testing:
A few are,
Accelerates development lifecycle
Reduces security breach
Cost-effective
Less manpower requirement
Improved accuracy
Reliable
Saves time
Early launch in the market
Conclusion: How Long Does It Take to Develop an App?
We are all aware of the concept of coding and that it is a time-consuming task. This article discussed various factors that determine 'how long apps take to build'.
Each factor has various options to select from, and every option has its own timeline. The choice of these options is up to the app owner.
Again, wrongly evaluating and failing to understand the factor can trigger huge losses and even delay the application's timeline.
You can now understand which aspects can help in faster development of an app and what can slow down the development process.
We attempted to answer almost all questions that come to your mind regarding the development timeline.
We hope you are satisfied with the information we presented to you. Now you can have a rough idea of a popular question, 'how many hours does it take to develop an app?'.
If you have any concerns, doubts, OR questions, we are more than happy to assist you. The Gray Bear is a tech-savvy company with a team of 85+ professionals. With eight years of vast experience in the IT industry, we work in almost every industry domain.
You can connect with us and get a free consultation today. We provide robust app development solutions in a minimal timeframe with high-end results.