Cable TV has been the go-to source for entertainment for a long time now, making it an era for the entertainment industry. However, this is no longer the case, as the majority of Gen-Z is uninterested in watching traditional TV.
This has increased the scope of on-demand video and video streaming websites. The market value for video streaming websites is estimated to be USD 419.03 billion for 2021, as per Fortune Business Insights. In addition, these figures are expected to reach USD 932.29 billion by 2028.
On-demand streaming service is an excellent multi-billion dollar business idea, especially after the pandemic. In fact, there is a 75% increase in the time spent by viewers watching video content.
Nowadays, entrepreneurs are getting inspired by Netflix's business model and are developing and implementing their own ideas based on the same.
This idea has proven to be efficient, as it generates high revenue with ease. You can also do the same and start your video streaming website like Netflix.
Moreover, if you plan to build a similar website, it is worth reading the complete article. This blog provides very detailed information on how to make a video streaming website.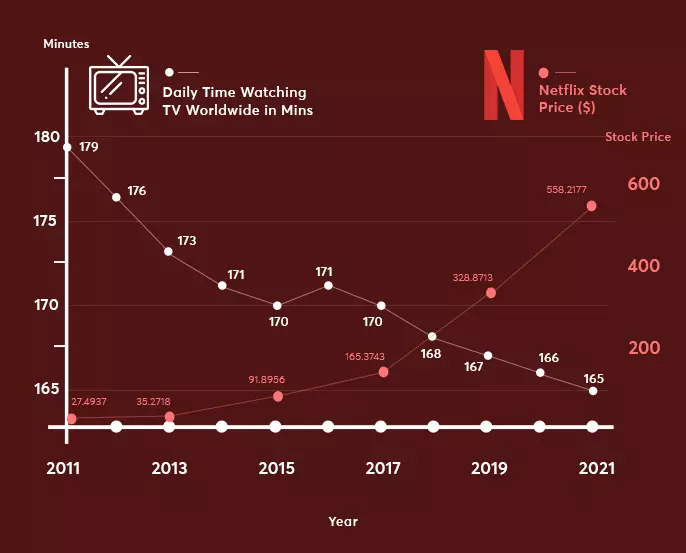 We can see in this comparative graph that as the daily time spent watching TV is being reduced, there is a hike in the share price of Netflix. This only proves the increasing popularity and scope of video streaming websites.
What Is a Video Streaming Website?
Before actually learning how to build a video streaming website, it is crucial to understand the fundamentals of video streaming. To thoroughly understand video streaming, let's first discuss what we mean by streaming.
Streaming, in simple words, is when consumers demand audio or visual content via an internet-connected device. This is a request which is responded to by a server.
Series, TV shows, podcasts, songs, movies, and webcasts are a few commonly known forms of streaming.
Streaming is different from downloading in various aspects. In streaming, all the information is stored on the server. This information is loaded in real-time and concurrently upon the consumer's request for entertainment.
On the contrary, in downloading, one can have a copy of the content on their device. The consumer needs to wait until the download is complete to watch this content. On the other hand, streaming can be anything, live (real-time) or recorded.
A website that uses live video is called a live streaming website, and one which uses a recorded video is known as a video streaming website. In a video streaming website, a video is recorded in advance and is stored on the server. Viewers can see this video as per their demand.
Another side of a live streaming website is that the video is recorded and is broadcasted simultaneously. As a result, it never gets stored on the server, and the viewers who are not present during the stream miss watching it.
Live streaming and video streaming are commonly known as Over-the-top (OTT) media services.
Further, let's have a look at facts and statistics of the video streaming industry, as they indicate new opportunities for entrepreneurs.
Facts & Figures about Streaming
42% of marketers/ agencies planned to increase their ad investment in OTT platforms in 2021, as per a report by eMarketer.
As per a survey by OpenX, 66% of all OTT subscribers learned about new products from advertisements on the OTT platform.
A report by Comscore stated that at least 25% of the homes in the USA have access to 5 OTT apps, which are Netflix, YouTube, Amazon Video, Hulu, and Disney+.
87% growth was recorded for digital movie purchases post COVID outbreak, as per the Research paper of the British Association for Screen Entertainment.
According to Statista, Netflix holds a 26.6% global video streaming traffic share.
Video streaming accounted for 60% of the total downstream traffic on the internet for 2019.
As per eSports, the demand for online video streaming has increased by 99% between April 2019 and April 2020.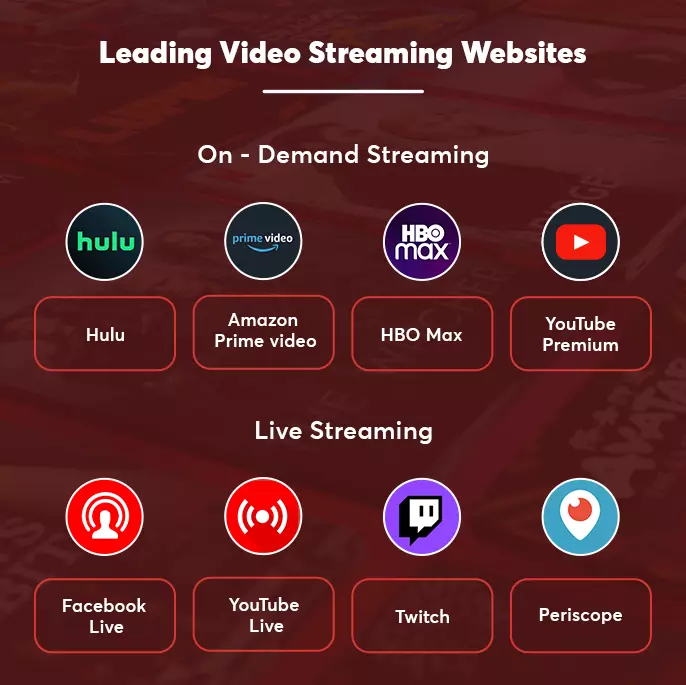 This article has covered detailed information on how to make a video streaming website. Furthermore, we also intend to publish a detailed blog on building a live streaming website.
Do consider subscribing to our newsletter to stay updated on the topic. Let's begin the article by knowing about different types of video streaming websites.
Types of Video Streaming Website
Notably, Netflix, Hulu, Amazon Prime, and Disney+ are modern ways of entertainment and are different from the ones used in the late '90s. Moreover, various production houses and channels nowadays stream their content on their platform.
This concept is also gaining massive adaptation and attention from the audience. A few examples of this concept are Hotstar, SlingTV, HBO NOW, Netflix Originals, YouTube Originals, etc.
However, regardless of who is streaming the content (production house or channels), the whole OTT industry is a part of one or the other categories of video streaming websites.
Therefore, it is worth knowing the different types of video streaming websites to better understand how to create a video streaming website.
Therefore, let's have a detailed look at each type of video streaming website.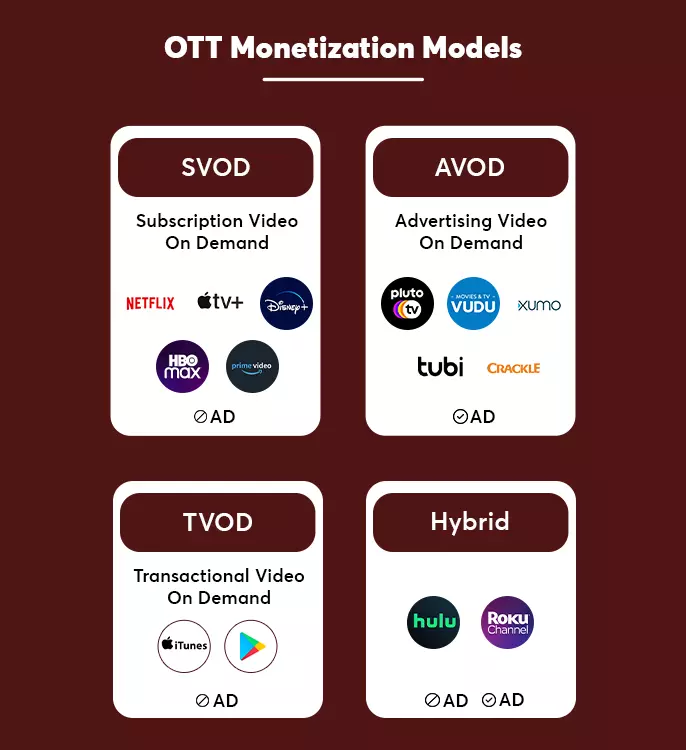 SVOD Website (Subscription Video On Demand)
In this concept, the user must subscribe to the video streaming website by paying a certain amount of money. Only after that can they access the video library of the website.
To explain, the OTT websites create subscription plans for their services in which they offer different features to the users.
The criteria of these subscription plans are often the subscription duration, video quality, and the number of devices on which one can stream.
Unquestionably, the viewers can choose a plan based on their budget and needs, and subscribe to the services of an SVOD website.
Various factors such as the number of available videos on the website, their demand, and quality affect the pricing of the subscription plans.
Of course, the higher the prices of the plans, the better quality subscribers can get from the video streaming website.
Moreover, in SVOD type of streaming websites, the viewers' access to the videos is limited to the duration of the subscription they have paid for.
Therefore, once the subscription duration is complete, the viewers have to renew their subscription by re-purchasing a plan. Various SVOD websites also allow their users to download the videos for the offline streaming facility.
Most of the SVOD websites provide subscription plans of different durations, as given below.
Monthly Subscription
3 Month Subscription
6 Month Subscription
9 Month Subscription
Yearly Subscription
In addition to that, many SVOD websites also engage in sales activities to provide promotional offers to the viewers. This includes discounts on the subscription plan, a free subscription for the first month, and more.
Notably, two of the most popular SVOD websites are Netflix and Amazon Prime. Generally speaking, most websites focus on a subscription-based monetization model to create a video streaming website.
TVOD Website (Transactional Video On Demand)
While SVOD websites provide complete access to the video library to viewers (in exchange for a fee), in TVOD websites, viewers only pay for the videos they wish to watch.
This concept is similar to purchasing a DVD to watch a particular video. Moreover, there are no watch limits in the TVOD concept.
TVOD websites crucially have two types of plans. One is Electronic Sell-Through (EST), in which the viewers get ownership of the video. Here, the viewers can stream the video as many times as they want to.
On the other hand, Download To Rent (DTR) is another plan, in which the streamers can get access only to the purchased video for a pre-determined time period.
A few of the most famous examples of TVOD are Google Play Movie, YouTube, iTunes, and Amazon Rent. TVOD benefits the streamer as well as the streaming website in various aspects. Consequently, it is becoming a popular choice to develop a video streaming website.
AVOD (Ads Supported Video On Demand)
These video streaming websites are highly favored by users as they are free of cost and convenient to many. In the AVOD concept, websites allow their users to play as many videos as they want to, with high-quality resolution without charging them money.
Simply put, the websites generate revenue by displaying advertisements on their web pages, which the users see and interact with. Here, the AVOD websites decide how many ads are displayed, their placement, frequency, and much more.
Since the viewers are not paying any fee to the streaming website, they cannot choose if they wish to see the advertisements or not.
Naturally, the websites display the ads as per their choices, and the viewers have to see them to stream the content. A few advertisement options are pop-up ads, banner ads, video ads, etc.
However, this option usually ends up being overlooked by premium streaming websites. This is because the AVOD model generates the least revenue out of the three models.
Moreover, the premium streaming websites are confident that viewers will pay money to stream their content.
To point out, Youtube, Daily Motion, and SlingTV are a few popular examples of websites working by the AVOD concept of streaming. As has been noted, many businesses are now opting for this model to build a video streaming website.
This concept is similar to traditional television, in which the viewers need to watch advertisements along with the content.
These are the different types of streaming websites or monetization models through which streaming websites operate. Which of these models is suitable for a streaming website is highly dependent on the business model.
Moving further, let's discuss the steps involved in developing a video streaming website.
Step by Step Process of Developing a Video Streaming Website
It is essential to accurately determine and follow all the given steps to successfully develop a video streaming website. By following the steps listed in this section, you can get your answer to the question of how to build a video streaming website.
We recommend you carefully read this section and bookmark this blog for future reference.
Step 1: Identify Market Gap
It is unlikely for OTT users to stop using a well-known streaming website and begin using a newly launched one. However, if the new OTT website provides special offers, there are increased chances of people using the website.
The same concept applies to creating a video streaming website. The video streaming website needs to have a perfect analysis and thorough market research, with a unique concept to attract users.
All the OTT websites work towards gaining customer loyalty. Therefore, identification of the gap in the market and fulfilling it to gain customers is the best way.
Moreover, it is necessary to know that a new OTT website competes with well-established ones like Netflix, Hulu, Amazon Prime, and more. Therefore, you need to identify and add a Unique Selling Point (USP) that differentiates your services from other similar websites.
Below given is the market share of the leading video streaming service providers in the USA.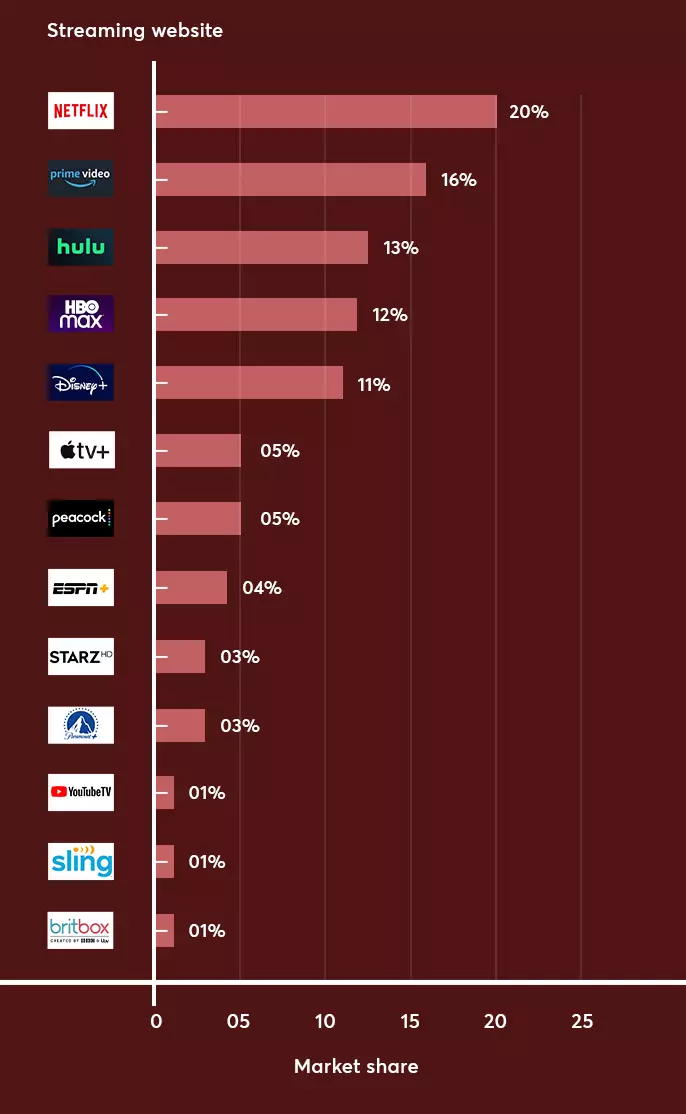 Identification of the market gap requires extensive research and analysis. However, once identified, one can generate billions of dollars and give tough competition to the well-established OTT providers.
A video streaming website can be built in any industry, which has high growth potential in the future. A few examples of these industries are-
Gaming
Sport
Conferences and Events
Personal Content
Skill Sharing
Travel and Tourism
Medical
Therefore, when it comes to building a streaming video website, the potential and options are unlimited. However, the only possible limitation is lagging in market research and analysis and failing to identify the market gap.
Conducting a thorough research of the market will give you an idea of which industry you should start a video streaming website.
Step 2: Conduct SWOT Analysis
Extensive strategic planning is the secret to business success. Many businesses fail after developing a streaming website. This is primarily because they lack to conduct proper analysis and market research.
Generally, businesses tend to skip this step as they think it is not worth their time to invest in market research. However, this step is the foundation of their long-term growth and success.
After thoroughly researching the market in the first step, you can now understand and identify what you exactly need to add to your website to make it stand out.
At this point, conducting a SWOT Analysis (analysis of strengths, weaknesses, opportunities, and threats) will increase the success rate of your business.
You can easily conduct a SWOT analysis by answering the below-given questions.
What problems do viewers face with the current video streaming website?
What is your solution to these problems?
Is there any competition in your niche? If so, how will you overcome them?
What are the obstacles you are likely to encounter?
How will you connect with the audience?
What is your unique selling proposition for viewers?
Who are the demographics of the audience?
Is it possible to build a video streaming website and launch it rapidly in the market?
Which monetization option will you choose?
Do you have funds available? If not, how do you plan to arrange the same?
What are your risk management plans?
Is your content ready to be uploaded? If not, what is your plan for it?
Have you arranged a team of developers to work on your website? If not, what are your plans regarding this?
To find the best suitable answer to these questions, you need to make collaborative efforts with your team. This analysis will clarify and validate your ideas and largely avoid future losses.
Step 3: Select and Purchase Domain
Many website owners tend to overlook the importance of this step. Marketing a brand is a task that takes years to accomplish. However, once established, the brand is popularly known by its domain name.
Therefore, it is necessary to conduct a thorough analysis and choose the right domain name for your brand. Here are a few points and tips for you to do this.
Select Right TLD
In case you aim to market your brand within a particular region, you can select a country-level TLD. For example, .uk is the TLD for the United Kingdom, and .ca is for Canada, and so on.
Some more examples are
.edu TLD is for those in the education sector.
.com TLD is for the global marketing of your brand.
You need to analyze and select TLD that is the best match for your website.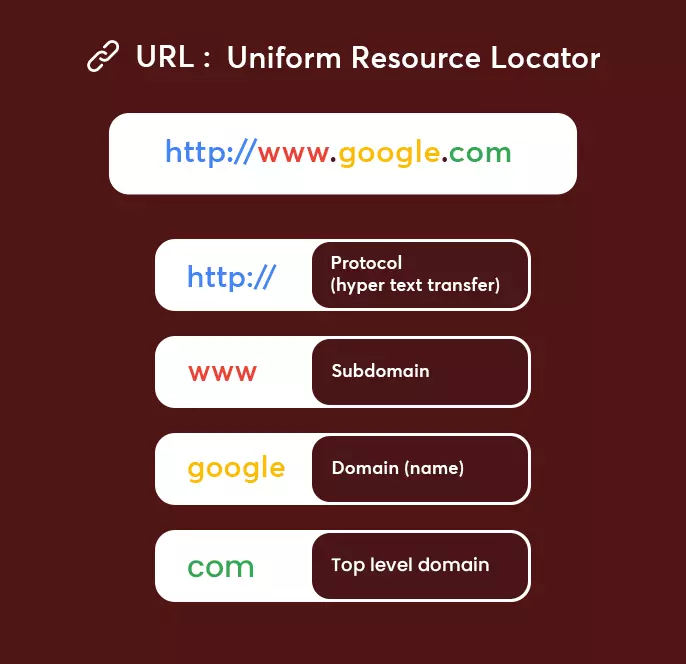 Domain Name
Once the TLD is determined, you can start considering the domain name for your website. The name is decided keeping in mind the industry in which the business operates.
Moreover, it is essential to keep the domain name short, with words that are easy to recognize.
Also, one should also be considerate not to buy an already trademarked domain name. These factors will ensure that your domain name is unique and catchy and adds value to your brand.
Check Potential Competitions
It is a well-known fact that a unique domain name gives a differentiated advantage to a brand against its competitors.
Therefore, it is crucial to check competition in all aspects and find a name that is not similar to another domain name. Here are a few examples.
Example 1 – Thefounder.com is a well-known domain that has existed for many years. You might have found a domain with Thefoundr.com, but it might not work for you.
Example 2 – Insightlab.com has been an excellent domain for many years. You found a domain called Ensightlab.com, but it may cause losses in the future.
Example 3 – Five.agency is an excellent domain. The domain name you found is Five.org, which will require your business to overcome various obstacles.
What is the best way to combat this challenge?
One can easily find if a domain name is unique or not by searching it in the browser. In case you get similar-looking search results with corrections, it is recommended not to use that domain name.
Purchase Domain Protection
Protection and privacy are essential for every domain and are useful to protect the owner's personal details. Usually, this security is not included in the domain price, and one needs to buy this separately.
Costs for privacy and security of the domain can range from $1 to $10.
SSL Certificate
A majority of the video streaming websites collect critical user information such as their name, phone number, credit/ debit card details, login credentials, and more.
As a result, it is necessary to get an SSL certificate to avoid security breaches and leaking of this sensitive information.
Trademark Brand Name
After selecting the right domain name, it is also important to legally register it under the company's brand name. This will prevent others from using the same brand name as your company's.
A trademark gives the owner of the brand exclusive rights to use the logo, slogan, brand name, etc. Even though this step is optional, it is profitable and necessary in the long run.
Our guide covers all the information on how to build a video streaming website. Keep reading the blog to gain complete knowledge on the subject.
Various businesses tend to neglect the basic information. However, it is crucial to have detailed insights to ensure long-term success.
Step 4: Create a Business Plan
Once you have conducted thorough research and identified your strengths and weaknesses, it is time to create a business plan. In a nutshell, this plan outlines your strategies and shapes your ideas on how you plan to achieve your business milestones.
A business plan also covers your short-term and long-term goals. All this information is formally documented and stored. Simply put, all the raw information achieved from the previous steps gets arranged and converted into a thorough business plan.
A business plan helps structure ideas and identify the loopholes that a business will face in the future. In addition, it also outlines a plan for scaling, potential obstacles, monetization, and resource requirements.
This information is highly crucial as it enables the business to decide how to create a video streaming website precisely and accurately. The business plan starts and ends with a business model canvas (BMC).
Business Model Canvas (BMC)
A Business Model Canvas (BMC) is a highly useful strategic management tool that helps plan new business models. There are nine elements in the BMC, which can be fulfilled with a detailed SWOT analysis.
Investing enough time in BMC reduces the failure chances of business plans in the future and helps in avoiding significant losses. Here are the nine elements of Business Model Canvas.
Customer Segments – Portraits of a buyer persona.
Value Proposition – What services or products do you offer? Describe your unique selling point (USP).
Revenue Streams – Describe your revenue generation strategy.
Channels – How do you communicate with clients? Way to deliver your USP to end-use.
Customer Relationships – How will you maintain and grow your relationship with your customers?
Key Activities – How do you run your business on a day-to-day basis?
Resources – The people, money, and inventory that support running business operations.
Partner – Partners and stakeholders that help business operations run smoothly.
Cost Structure – Estimation of costs based on business operations and resources.
One needs to consider the business model canvas when planning how to make a video streaming website. Here is a sample BMC for a video streaming site for you to use as a reference.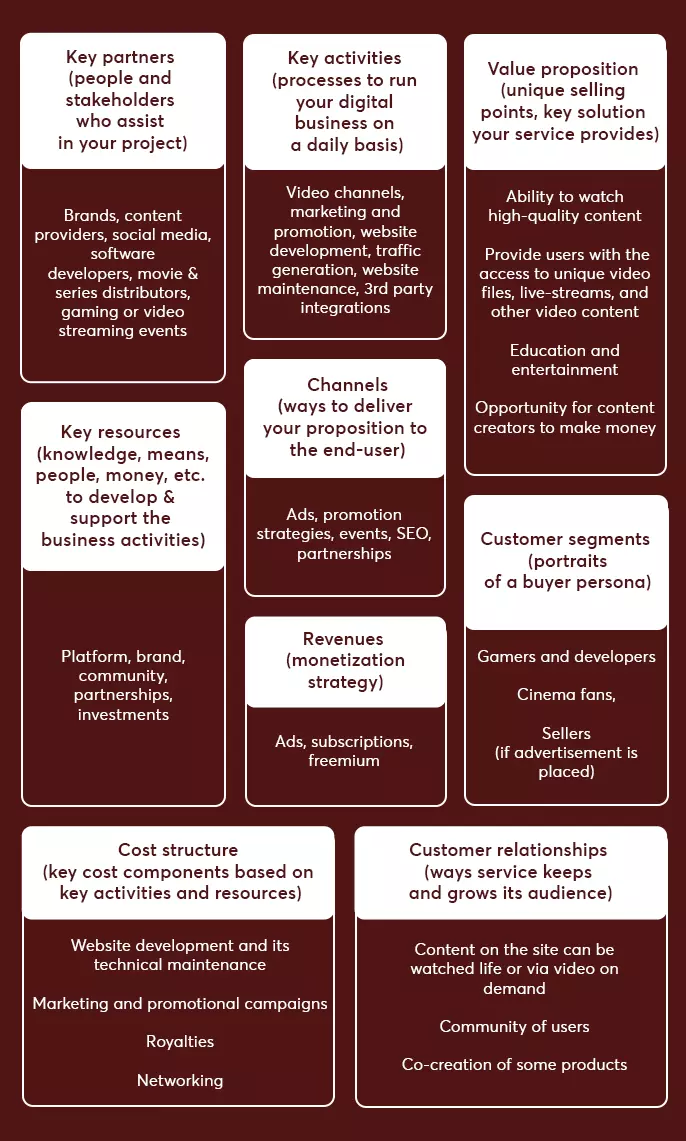 Step 5: Get a Video Streaming Licence
Businesses need to adhere to the laws to avoid legal troubles like copyrights and lawsuits. This article has already covered the importance of trademarking the brand name to get exclusive rights to use the business logo, name, slogan, etc.
The businesses in the OTT sector also need to get a license for the content they are streaming. However, the procedure to receive this license completely depends on who is the broadcaster of the content.
Simply stated, if the website owner is the broadcaster of the content, then the process is different. On the other hand, a different process must be followed if a third party provides the content.
In case you don't have content of your own, you need to contact a third-party broadcaster and negotiate a deal with them. In this case, there is a need to create legal documents with the third party based on your needs and requirements.
For instance, Netflix purchases movies from content owners with the condition that they cannot sell the same content to anyone else. That gives Netflix exclusive rights over the content.
On the other hand, some OTT brands just buy the content from the content owners without any such condition, and therefore same content is available on multiple platforms.
When deciding how to create a video streaming website, businesses also need to plan for and arrange content licenses. Businesses that fail to do so often end up with legal penalties from the government.
As a result, nowadays, video streaming businesses invest a huge amount in content purchasing and getting licenses. For instance, Netflix spends $13 billion dollars on purchasing content from third-party creators.
Step 6: Find Website Development Partner
Once the business has been thoroughly researched, planned, and strategized, the role of actual website development comes into action. To build a website, one needs to hire a complete development and designing team.
At any rate, this is one of the most crucial and critical steps of the question- how to develop a video streaming website. A Website can be built by following one of the two primary approaches.
One is to build it with your own team, and the other is to outsource your website development to an agency.
As a matter of fact, outsourcing web development can save up to 30-40% of the overall cost of building a website. This is also the best and most recommended option for making a streaming website.
Moreover, outsourcing website development allows you to find a well-versed team that is equipped with the latest technology and knows how to make a video streaming website.
Naturally, solutions delivered by an outsourced web developer are certain to generate the best return on investment.
Here are the steps to find the best outsourcing agency.
Find a list of companies from review websites like Clutch, GoodFirms, Manifest, and Google.
Check their previous work and analyze whether they worked on any video streaming project in the past.
Check their testimonial to know their work experience.
Narrow down the list based on capabilities.
Connect with the shortlisted companies and request a proposal.
Finalize a company based on your budget and requirements.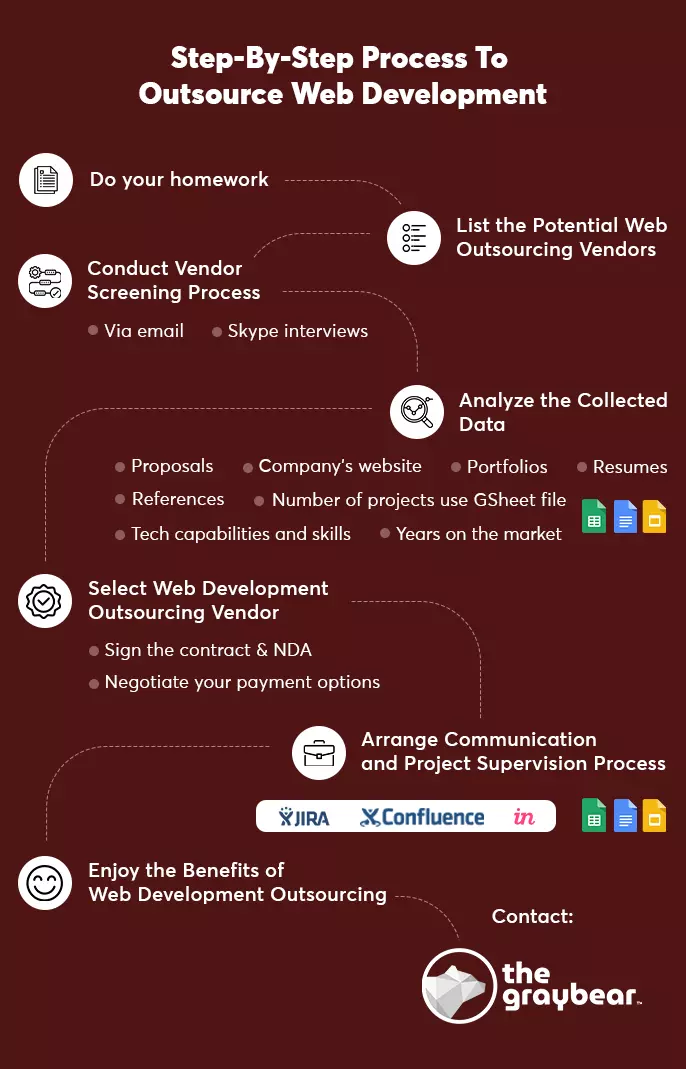 Once you have found the perfect outsourcing partner, it is time to discuss your ideas with them and receive their inputs on the project. The company will provide you with MVP features and advanced features lists based on these ideas.
In addition, You can also send the company your feature requirements if you have them ready. This article will later discuss MVP and advanced features. Moreover, it is necessary to keep the communication clear to create a quality streaming website.
Step 7: Website Deployment and Promotion
Generally, there are two main ways to create a streaming website and deploy it to the end-users. The first way is to launch the MVP features and add the advanced features later. The second way is to launch the complete website at once with the advanced features.
The recommended way is to go with the first option and deploy MVP features first. This validates your ideas and lets you know how the target audiences respond to the website.
Feedback from these customers can help you improve the website before launching the final version.
Knowing how to build a video streaming website is an important factor. However, effective marketing of the website is equally important, if not more. Many efforts go into promoting a brand and targeting it to the right audiences.
Therefore, your OTT website needs the right marketing strategies to generate the best returns on investment.
Primarily, there are two marketing approaches: traditional marketing and digital marketing. Most people prefer the digital marketing approach over the traditional one.
This is because, with digital marketing, you can easily reach out to your target audiences irrespective of geographic constraints.
To point out, here are a few popular digital channels to make your product reach the target customers.
Search Engine Marketing (SEM)
Search Engine Optimization (SEO)
Social Media Marketing (SMM)
Native Advertising
Influencer Marketing
Email Marketing
Content Marketing
Step 8: Support and Maintenance
As a matter of fact, effective marketing strategies are the key to efficiently growing a loyal customer base. By doing this, one can receive valuable feedback from users.
This feedback is especially helpful for scaling and improving the quality of the product and adjusting it to the market's demand.
Moreover, by working on the received feedback, one can ensure that the other users do not face the same issue. Paying attention to the customer's queries and offering personalized solutions is the key to success for the business.
It is commonly known that if businesses fail to respond to the customers' feedback, the users tend to shift to the competitor's website.
Therefore, by knowing the customer's feedback and finding relevant solutions to their queries and concerns, one can know how to build a video streaming website even more effectively.
Not to mention, there are many ways to receive feedback from users. Here are the most popular ones.
Live Chat / ChatBot
Social Media Reviews
Websites Reviews
In-Person Review
Short Surveys
Analytics (Session Record, LTV (Life Time Value), Bounce Rate, New Users, Retention Rate, Active Users, Lost Users, and much more)
These are a few steps that one needs to consider while creating a video streaming website. There is a never-ending demand for OTT websites, as the market for people looking to relax with movies, series, and more is increasing day by day.
By following these steps accurately, you can easily develop a streaming website and get the best ROI. Further, let's go into the technical factors of OTT website development and know about MVP features in detail.
MVP Features for Video Streaming Website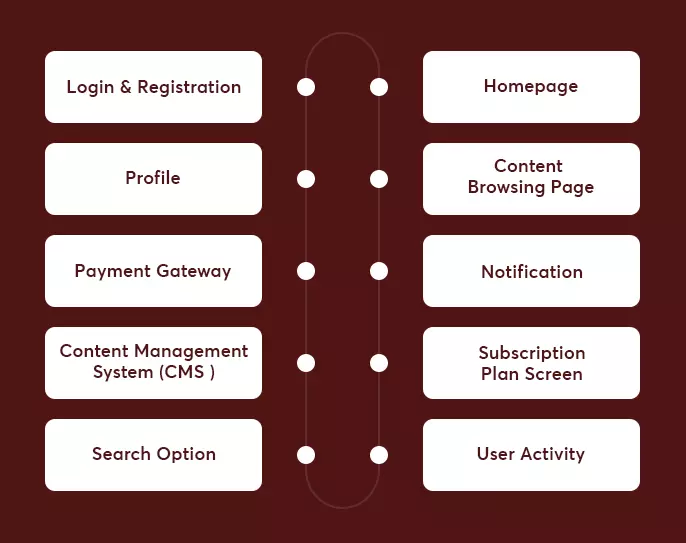 Essentially, MVP development refers to developing a video streaming website with only the essential features. By deploying the website with the MVP features first, the website owner can get crucial feedback from the users. Additionally, more features are developed later after working on these user feedbacks.
This enables the website owner to know how the market is responding to their ideas and receive validation on them.
Therefore, by knowing in advance about the performance of your website, you can avoid future losses and compromised user experience.
Consequently, it is always recommended to develop the MVP features first and then add the advanced features later. Let's have a look at the MVP features of an OTT website.
Login & Registration
Generally speaking, this MVP is optional if you are developing a streaming website with the AVOD monetization strategy. However, login and registration are necessary for video streaming websites planning to work with SVOD and TVOD models.
This is because these models require the users to make payments for subscription plans and content.
As a result, confidential information such as credit card and debit card details, email address, phone number, and much more need to be stored. For the ease of users, most websites nowadays allow registration and login by social media and Google accounts.
Profile
This feature enables users to add, modify and delete their information on the video streaming website. This includes name, email address, password, credit/ debit card details, and much more.
Moreover, many websites also include a personalized watch list, watch histories, and favorite genres in the profile section.
Payment Gateway
A payment gateway is essential for making a video streaming website with SVOD and TVOD plans. One can either integrate the website with a third-party payment gateway or build a custom one for the website. In either case, high security is fundamental.
The security protocols get followed automatically if you go with the third-party payment gateway. However, it is critical to precisely follow security protocols and regulations when making a custom payment gateway.
Moreover, you need to analyze and find the payment gateway used in the country where you aim to launch your video streaming website.
Critically, debit cards and credit cards are two universally used payment methods. Therefore, it is important to have these payment options on your website.
Here is a list of the leading payment gateways by region. Generally, each payment gateway has its own pricing structure per transaction. To know this pricing structure, please visit the particular option's website.
Continents
Payment Gateway
Latin America

Stripe
PayPal
OpenPay
Mercado Pago
Skrill

Asia
Europe

Stripe
Amazon Payments
PayPal
Mollie
Cardinal

Middle East
Oceania

Degica
PayPal
Skrill
Clearpay

Africa
CMS (Content Management System)
Naturally, a video streaming website is not useful if it does not have any content for the viewers to stream. Therefore, an OTT website should necessarily have an easy-to-use interface to upload content for broadcasting.
Moreover, the developer has to integrate analytic information and insights based on the role of the people involved in the business. This will allow the company to receive analytics on various factors.
However, extra functionalities should not be added here, as they will be added later in the final version of the website.
Search Option
The library of the OTT platform contains thousands of videos for people to stream. Therefore, adding a search bar is a useful MVP while building a streaming website.
With this feature, the website users can choose the content they wish to watch with ease, be it series, movies, or episodes.
Search option enables the users to quickly find the content that matches their interest and stream it; therefore enhancing the user experience.
Moreover, the search result history is of high value to the website owner. It provides crucial analytical information and helps determine the particular content's popularity and demand. In addition, many OTT websites integrate their website with AI.
In addition, the machine learning feature of AI helps generate search suggestions relevant to the users' preferences (based on their search history).
Homepage
Homepage is the first point of contact between the website and the user. The homepage is where the user can navigate the whole website from, and therefore it is important to make this page as aesthetic and functional as possible.
Naturally, every element of the homepage, such as buttons, navigation links, videos, contact information, categories, and menu needs correct positioning. Since this page is the first impression the user will have of the website (and brand), not keeping it tidy and organized can increase the website's bounce rate.
Moreover, many websites even provide a preview when the user places the cursor over the video. Most websites include high-performance video libraries as the first content item on their homepage.
In addition, certain OTT websites also include an option for the users to continue watching the video content they had left amid in the last session. Likewise, other options include add to favorite, add to playlist, show production name, etc.
The elements included on the homepage are determined based on analytical data and marketing strategies. Therefore, creating a video streaming website means keeping the home page active and running at all times. Therefore, homepage creation is a vital factor for OTT websites.
Content Browsing Page
This page consists of information such as ratings, comments, views, actors, producers, and a lot more about each series, movie, and other broadcasts. The users use this information to decide on whether to watch the specific content or not.
Therefore, this MVP is crucial while determining how to create a video streaming website.
Notification
Notifications are a highly useful feature, as through them, the user can be informed about various aspects of the platform. As a result, notifications are a way for the OTT platform to communicate with the users.
This communication usually includes new content release, subscription end, account verification, promotional offers, etc.
Moreover, some OTT websites even integrate notifications with their sales strategies for better sales. This includes suggesting to watch specific content, achievement of view milestones for videos, and most rated/ popular content on the platform.
Therefore, by developing a streaming video website with the notification feature, you can enhance user experience as well as boost your sales.
Subscription Plan Screen
Subscriptions are the primary source of revenue generation for OTT websites operating with SVOD and TVOD models. While some websites have as few as three subscription options, other websites have two to four or even five options available.
Moreover, there is often a free subscription plan given as well, which is a free trial of the website's streaming services. Therefore, a subscription plan is an MVP and is needed while making a streaming site.
User Activity
Information such as watch history, liked content history, comment history, etc. are highly useful to the users. Moreover, the main user can view the history and activity of the sub-user. Therefore, we cannot make a video streaming website without this feature.
Estimated Cost of Developing MVP Features for OTT Website
A cost analysis is necessary when planning how to create a video streaming website. Generally speaking, the formula to calculate the cost of a website is the multiplication of the hourly rate with the hours it takes to make a streaming website.
Cost of MVP = hourly rate * hours (It takes to develop a video streaming website)
To illustrate, here is an estimate of hours based on the MVP features of the video streaming website.
Modules
General Features
Approx. Time (Hours)
Login Page

Login by Facebook, Twitter, Google Account, Email, and password, Mobile Number
Forget Password
Logout

58
Registration Page

Register with Facebook, Twitter, Google accounts, Email, and password, Mobile Number

24
Homepage

Content Categories
Hover preview
Continue to watch
Search
Add to favorite
List of videos

256
Plan Screen

List of plans
Payment Options

52
Movie Page

Add and show rating
Like and Comment

40
TV Shows Screen
25
Notification

List of notifications and action

25
My Activity

Watch History
Liked, Unliked, Comment History

20
Account Page
130
Playback Setting

Autoplay on/off
Select how the data is used per screen

45
Help Center and App Feedback

Survey Form
Chatbot
Livechat
List of article

60
Total Development Time
735
Generally, an administrator panel is necessary for the process of making a video streaming website. Owing to this, one can add, remove and manage various aspects of an OTT website such as users, categories, broadcasts, and more.
Here are the estimated hours required to build an admin panel for a video streaming website.
Admin Panel Cost
| Modules | General Features | Approx. Time (Hours) |
| --- | --- | --- |
| Authorization | | 8 |
| Management of user | | 65 |
| Management of categories | | 78 |
| Management of Movies | | 70 |
| Management of TV Show | | 68 |
| Streaming | | 90 |
| Total Development Time | | 379 |
All things considered, it takes about 1000 to 2000 hours to build an MVP video streaming website. However, this time frame is highly variable and depends upon the business plan and sales strategy.
For example, Netflix uses artificial intelligence to offer a personalized user experience based on the user's search and watch history.
Moreover, the cost of the website also depends upon the region where one wants to outsource their web development service. Furthermore, here are the hourly rates of top countries for web development all around the world.
Destination
Hourly Charge
Countries
Asia
$15-$40

India
Nepal
Bangladesh
Pakistan
Philippines
Indonesia
Malaysia
China
Vietnam

Africa
$20-$45

South Africa
Kenya
Nigeria
Morocco
Egypt

Eastern Europe
$40-$70

Ukraine
Belarus
Poland
Romania
Hungary
Bulgaria
Austria
Slovakia
Czech Republic

Latin America
$45-$80

Brazil
Mexico
Colombia
Chile
Argentina
Peru
In case you want to get the estimated cost for your video streaming website, you need to look at an hourly rate based on the country where you want to develop it and multiply it by 1000 hours.
For example,
| Destination | Approx. Cost |
| --- | --- |
| Asia | $15,000-$40,000 |
| Africa | $20,000-$45,000 |
| Eastern Europe | $40,000-$70,000 |
| Latin America | $45,000-$80,000 |
These costs are just an estimate for developing MVP features for a video streaming website. However, you need to contact an expert video streaming website development company to get the exact timeline and cost.
What Are the Advanced Features of a Video Streaming Website?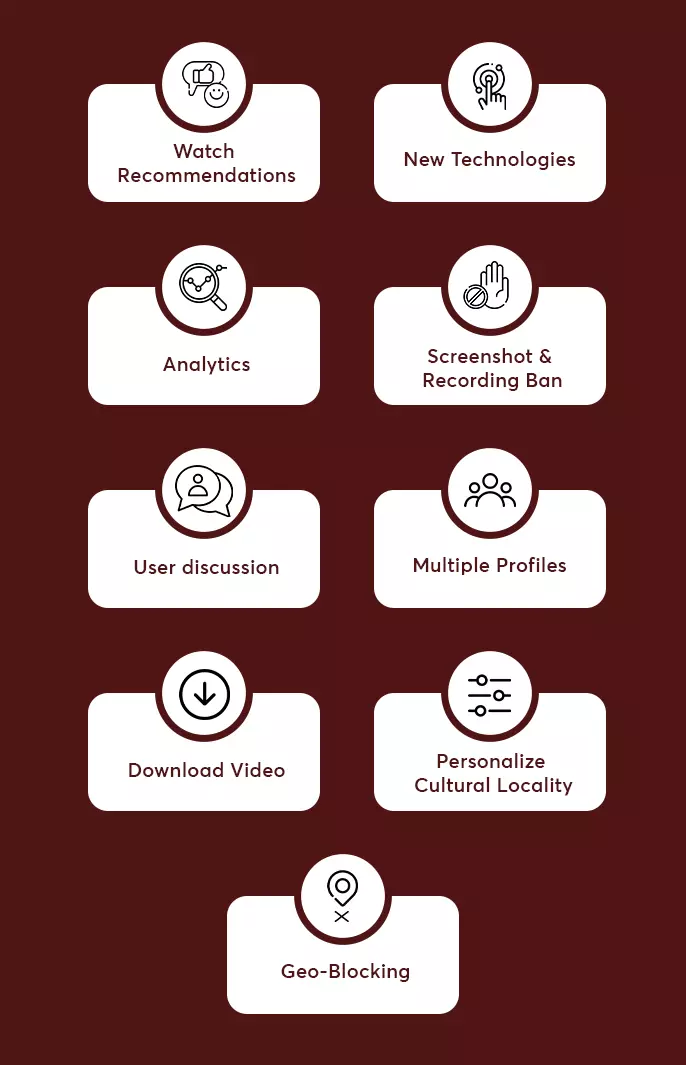 There is massive competition between video streaming websites. Consequently, to combat this competition, one needs to offer excellent and unique features to their users.
Moreover, there is always a chance that the competitor might be able to deliver these features in a better way.
Therefore, the customers are likely to shift to their website. The users have a constant demand for new and innovative features that add to the OTT website's value. Consequently, it is essential to fulfill this demand to maintain customer loyalty.
When a website is launching its MVP, it simultaneously needs to work upon the advanced features and user feedback. Similarly, once you launch a complete video streaming website, it is necessary to work on its updates and add new features that attract users.
Naturally, identification and addition of these features will require continuous market research, competitor research, and target audience analysis.
It is crucial to know about the advanced features of OTT websites to precisely understand how to make a video streaming website.
Therefore, let's take an individual look at each popular advanced feature.
Watch Recommendations
It is common to use artificial intelligence algorithms to offer personalized watch recommendations to the users of OTT websites. The suggestions improve and evolve based on watch history, likes, dislikes, video view count, comments, interactions, etc.
For the most part, this aspect of machine learning is advantageous as it can enhance the overall user experience. Therefore, integrating AI with your video streaming website is recommended when creating a video streaming website.
New Technologies
Certain users demand high-quality resolution of videos, as they consider the quality of the content to be more important than the budget. Moreover, as per Influencer Marketing Hub, OTT platforms that lag to deliver high quality are at a 25% risk of losing revenue.
Therefore, not delivering this quality is a loss of revenue for the businesses. As a result, when creating a video streaming website, the website owners need to consider resolutions like 4k and HDR (High Dynamic Range).
To differentiate, websites can offer a standard plan for up to full HD resolution and a different plan for 4K and HDR resolution. Moreover, some people even prefer 8k UHD.
However, there is no video content produced on these resolutions, at least until now. In addition to that, the website owner also needs to consider different protocols of website streaming. Each of these protocols come with their own pros and cons. Here are a few to begin with.
MPEG-DASH (Dynamic Adaptive Streaming Over HTTP) –
Here, full videos are converted into segments and are then delivered to the client. These segments are later downloaded and streamed. Consequently, this reduces the buffering time for large videos.
HLS (HTTP Live Streaming) –
Developed by Apple, this technology is an advanced and more secure version of MPEG-DASH. In this case, the video gets streamed in different bitrates of small HTTPS-based files. This technology is developed to give a high-end performance to iOS devices.
RTMP (Real-Time Messaging Protocol) –
This technology can efficiently process a high volume of data without causing any delays (low latency communication). It is commonly used in cases when frequently changing data requires real-time access. Live streaming is an example of this type of technology.
Analytics
It is important to analyze the time that users spend on each page, popular videos, popular categories, and regional differences in popularity. Simply put, by analyzing this information, one can forecast what type of content will have demand in the future.
This improves the OTT website's customer experience and ensures future success. Moreover, there are also third-party analytics and custom analytics available in the market.
Therefore, it is essential to add analytics to make video streaming websites more profitable.
Screenshot and Recording Ban
Theft of content is a global problem that video streaming websites, as well as content distributors face. It is difficult to stop this content theft completely; however, this can be significantly controlled by restricting screenshotting and recording videos.
This is possible by coding the OTT website in a way that they do not allow such video theft methods. However, this feature can negatively impact the user experience.
Nevertheless, the website owner decides to include these features in the development of a video streaming website.
User Discussion
Usually, many users seek to communicate with each other and share their opinions, interests, and thoughts on the content. This is especially useful for certain genres which a group of people prefer to watch.
Therefore, offering a section to discuss the content with other users can be an excellent feature and positively impact the user experience. Particularly, Hulu is a perfect example of this matter.
Multiple Profiles
Creating sub-user profiles from the main user profiles is one of the most popular and highly demanded functions in video streaming websites.
As matter of fact, this option boosts the user experience in a significant way. Companies such as Netflix have this feature on their website.
Therefore, one should consider the sub-user creation option when creating your own streaming site.
Download Video
Having a stable internet connection is a big problem for many people. Therefore, you can deliver a better user experience by enabling this feature. Owing to this feature, one can watch downloaded videos without an internet connection.
This is useful while traveling on a flight, staying in an area without internet, or even on a road trip. However, the websites should allow the users to download the videos to their device's gallery for this feature to work.
Personalize Cultural Locality
In case you plan to create a video streaming website for the global level, it is necessary to add video content in multiple languages. Video streaming websites often hire translators to dub the audio.
Up to a point, color, cultural patterns, images, voice tone, and used phrases which sound and appear native are highly preferred by users.
Therefore, if you wish to launch your website globally but don't offer a native-like experience, the local audience might not prefer to browse your website.
Geo-Blocking
Here, video with audio of one country cannot be accessed with the same audio in another country. To explain, Geo-blocking is a sales strategy that aims to enhance the user experience by blocking the video based on the user's geographic location.
The user's location is determined through various aspects such as location settings, profile settings, IP address, etc. As a result, one can offer a personalized experience on their OTT website by integrating this feature.
How Much Does It Cost to Develop Advanced Features in a Video Streaming Website?
By now, we are sure you have received clarity on what advanced features one needs to consider to create the perfect video streaming site.
As matter of fact, it is difficult to compete with well-established companies like Netflix, Hulu, etc. without these advanced features.
Before discussing the costing part, it is essential to know how many hours it will take to develop each feature of the website.
Modules
General Features
Approx. Time (Hours)
Recommendations
58
Technologies

Full HD
4K
HDR
8K UHD (optional)
Protocols

125
Analytics
10
Custom Analytics
150
Community Discussion
100
Multiple Profile
35
Download Video
50
Localization
120
Geo-Blocking

Block Video Location Wise

160
Total Development Time
808
Here is an overview of the costing for advanced features based on the development location. ( Cost = hourly rate * hours).
Destination
Hourly Charge
Countries
Approx Cost (Based on 808 hours)
Asia
$15-$40

India
Nepal
Bangladesh
Pakistan
Philippines
Indonesia
Malaysia
China
Vietnam

$12,000-$32,350
Africa
$20-$45

South Africa
Kenya
Nigeria
Morocco
Egypt

$16,000-$36,360
Eastern Europe
$40-$70

Ukraine
Belarus
Poland
Romania
Hungary
Bulgaria
Austria
Slovakia
Czech Republic

$32,000-$56,560
Latin America
$45-$80

Brazil
Mexico
Colombia
Chile
Argentina
Peru

$36,000-$64,000
These figures are just a rough estimation of the actual cost of developing advanced features in OTT websites. To get the exact prices, you need to contact a web development agency like The Gray Bear and provide your requirements.
We are the top OTT website development company globally, offering robust and complete solutions.
Technology Stack for Video Streaming Website Development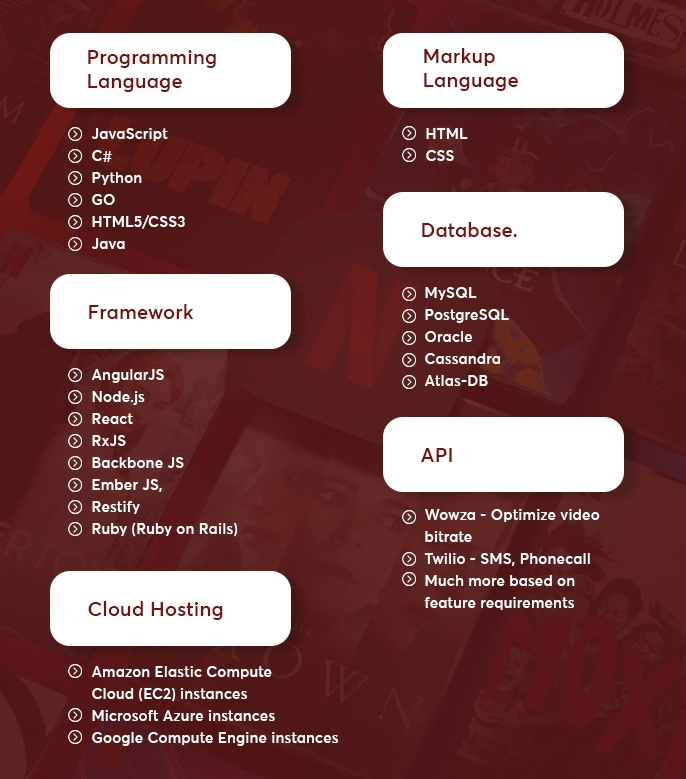 A tech stack is a collection of different technologies used to build websites and applications. This section of the article has specifically discussed the technology stack for developing a video streaming website.
A tech stack can affect the performance, appearance, animation, load time, and much more of the website.
Simply put, using the right technology stack can improve the growth and success of the organization in the long run. Further, let's discuss in detail the tech stack for video streaming websites.
Programming Language
Programming language uses vocabulary and grammatical rules to instruct a computer to perform a specific action. In lay terms, coding is what makes the action happen in a website.
JavaScript
C#
Python
GO
HTML5/CSS3
Java
Markup Language
It contains standard words used in creating web documents. This is the way through which the users feel and read web documents.
Framework
The framework provides developers with a structured format to work upon. Essentially, it is an outline for the development process.
AngularJS
Node.js
React
RxJS
Backbone JS
Ember JS
Restify
Ruby (Ruby on Rails)
Database
Database is the place where high-quality video files are stored and retrieved in video streaming websites. Naturally, excellent coding is required to do this efficiently.
This type of coding is known as 'query'. This query can be raised in any direction, depending on the database manager.
It is necessary to store data in a proper structure and optimize queries to efficiently retrieve the stored data and enhance the website's performance. The database is a vital part of video streaming website development.
MySQL
PostgreSQL
Oracle
Cassandra
Atlas-DB
API
APIs enable the developers to implement the features in the website quickly. Developers only have to add a small line of code to optimize API with the site.
Wowza – Optimize video bitrate
Twilio – SMS, Phonecall
Much more based on feature requirements
Cloud Hosting
Cloud hosting deploys your website on multiple servers. As a result, it performs better and faster. This is contrary to shared hosting, where you can host everything on one server.
Amazon Elastic Compute Cloud (EC2) instances
Microsoft Azure instances
Google Compute Engine instances
In addition, there are a few more technical aspects to take into account when developing a video streaming website. Here is a list of these aspects for your reference.
Technology
Description
DevOps

GitHub
Hub Commander
Gradle
Git
Crittercism
Jenkins
Apache Mesos
Vector
CloudTrail
Boundary
Sumo Logic
Logic Monitor

Utilities

Amazon SES
Falcor
Airship

Messaging

Firebase
PubNub
Twilio
SendBird

Streaming protocols

HLS (Apple HTTP Live Streaming)
MPEG-DASH
RTMP
M2TS
WebRTC
RTSP/RTP
Microsoft Smooth Streaming
Adobe HTTP Dynamic Streaming

Analytics and insights

Google Mobile App Analytics
MixPanel
Localytics
Flurry Analytics
Presto

Geolocation

Google Maps API
MapKit/Core Location frameworks (for iOS)

Media formats

MP4
AVI
MOV
MKV
FLV
WMV
DMW
SWF
AVCHD

Media containers
Codecs
CDN services

Cloudflare
Amazon CloudFront
Open Connect
Fastly
Note: If you are creating video streaming applications from an outsourced agency, you can skip this section since the company will handle the technical aspect and selection of technology stacks for you.
Tips: White Label Solution to Create a Video Streaming Website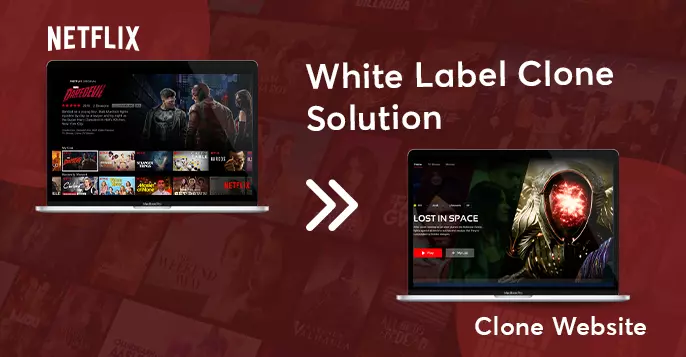 For the creation of a streaming website from scratch, the website owner needs a budget of $60,000 to $120,000. More than often, startups and small-scale businesses cannot afford to spend this much on website development.
Consequently, this budget constraint demotivates them and restricts their ideas. The solution to this problem is a 'white-label solution'.
In a white-label solution, the development companies develop code from scratch to create video streaming websites and applications. When clients present their needs, they change colors and UI and deliver rebranded apps and websites.
The development companies profit from these solutions by selling the same solutions to multiple clients. As a result, the website owners who are interested in developing video streaming websites but lack a high budget can benefit from this.
For the most part, white-label website development companies require more resources during the initial development phase but not later.
This process is completely legal, and neither the development company nor their clients (businesses) face copyright issues. Generally speaking, Whitelabel solutions reduce video streaming website development costs by 50-60%.
Earlier in this article, we discussed the cost of developing MVP and advanced features. The amount summed up to a range of $60,000 to $120,000 when a video streaming website is developed from scratch.
However, in case you choose to opt for white-label development, you can get a complete video streaming website in a range of $30,000 to $50,000.
Summing It Up: How to Create a Video Streaming Website
It is a good idea to create an online streaming website, but turning that idea into reality requires working on various aspects and criteria. Therefore, you need to invest time to understand every point in detail, as the ROI of your business will depend on it.
Moreover, this will help you overcome various challenges and obstacles that come with launching a video streaming website. Our article covers every aspect of this matter thoroughly and explains it in a simple yet detailed way.
You can get a free consultation from us, in case you have more questions on the subject. We have vast experience in developing robust and seamless websites.
Therefore, we are able to provide complete, reliable, and profitable solutions to all your needs regarding video streaming website development.
Does the article miss any information? Did you enjoy reading the blog? Let us know your thoughts. Please spare a few seconds and provide your feedback to help us improve the article