The latest generation, Gen Z, is witnessing a tremendous shift in shopping trends compared to millennials. Speaking factually, the number of digital buyers in 2014 accounted for 1.32 billion, which has now reached 2.14 billion.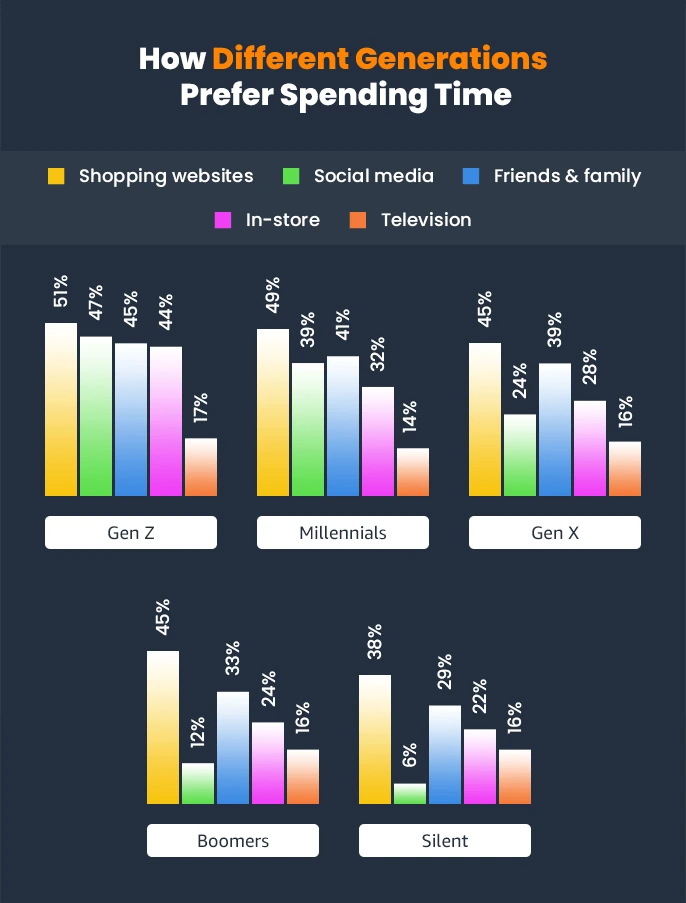 One of the major differences in the buying habits between these two generations is that while millennials look for more affordable options, Gen Z prioritizes quality over price. Moreover, as generations are changing, people increasingly prefer to shop online instead of traditionally in stores.
The fact is, traditional stores will soon start losing customers and, in turn, money if they don't have a digital medium to reach out to their customers. But, how do you create a solid digital presence?
You can do this by professionally collaborating with a third-party platform like Amazon, eBay, or Alibaba. Another option is to create your own e-commerce store.
The recommended option is to develop your own e-commerce store, either in the form of a website or a mobile application. This will give you 100% control over the products that you are offering to the market.
This blog post will discuss how to create a website like Amazon and optimize your sales and revenue.
Next, we also intend to post a blog on how to develop an app like Amazon. Make sure to subscribe to our blog to receive a notification once it is posted.
6 Reasons to Build Your Own E-commerce Website
An average person spends more than three hours a day on digital platforms. Out of these three hours, most of the time is spent on social media, and the rest on listening to music, watching videos, and playing mobile games.
Moreover, the ultimate goal of every business is to reach the customers where they are, i.e., on these digital platforms. As a result, the businesses need to market their brand on all the digital channels the customers are present in.
If you are able to attract customers from these channels, there are high chances that they will buy your goods simultaneously from your platform. However, diverting customers is a highly critical stage of branding and can either build or break your business.
Moreover, if you as a business tell customers to buy goods from a physical store, it is unlikely that they will make any purchase. On the other hand, having an e-retail website can allow the users to purchase the products of their interest as soon as they find them.
In addition, when you sell goods from a third-party website, the depth of analytics you will receive will be highly limited.
On the other hand, having your own e-commerce website will allow you to get highly in-depth analytics of customers' activity on your website, therefore improving your strategic planning. This makes creating your own e-commerce website an excellent business idea.
This is one of the numerous reasons you should invest in developing an e-commerce website. There are a dozen other ways a business can benefit by creating its own website instead of selling its goods on a third-party e-commerce website.
Moving further, let's look at these benefits one by one.
Freedom of Sales
A brand has to face high competition when selling products on a third-party website. This is because there are numerous sellers on the same website that sell similar products.
Moreover, most third-party websites have also started their in-house brands, which they display on the top of search results. Since the consumers have immense options to choose from, the chances of them buying products from your brand are less.
Consequently, the overall return on investment is compromised to a certain extent when a business sells goods on a third-party website.
Therefore, to get the best out of the e-commerce sector, developing an e-commerce website is highly recommended. In this approach, the business can promote its brand as much as it wants to and enhance its ROI.
Nurtured Revenue
"Satisfaction is a rating, loyalty is a brand."
Repeated sales are essential for every business and have the capability to generate high ROI. Moreover, by focusing on repeated sales and maximizing retention rate, a company can reduce its marketing expenses and increase the sales ratio by 20%.
One of the major advantages of e-commerce is that it is easy to target old customers and sell goods to them. However, achieving this objective is challenging on third-party e-retail websites. This is because it is not possible to remarket a brand to the buyers on third-party websites.
Additionally, the seller's ranking on search pages keeps on changing on third-party websites. Generally speaking, customers often buy goods based on their ranking on the search page, regardless of who the seller is.
As a result, even though a customer would have purchased goods from you earlier, the chances of this happening again are less, owing to the changed ranking.
Consequently, if you want to focus on retention rate and gain repetitive revenue, it is highly recommended that you create an e-commerce website for your business.
Brand Ownership
Today, a large number of businesses have started selling their products online, but with third-party platform's services. For example, one can list their products on Amazon and sell their goods to Amazon's wide target market. This solution is ideal for those who cannot afford to develop their own e-commerce store.
However, one loses customer loyalty as the buyers rarely know about the brand itself, but remember the third-party website. Therefore, it is recommended to create an e-commerce website to claim the ownership of the brand and build a loyal customer base.
High Profit Retention
A majority of the retailers which use third-party platforms to sell their products do not gain 100% of their profit. This is because the platforms charge a certain commission on every product sold on their website.
Apart from commission, the e-retail platform may also charge fees for other features, such as prioritizing product listing, product advertisement, and inventory management.
For example, Amazon levies a fee of 20% to 30% on the entire transaction. To avoid losing this revenue, it is better and feasible in the long term for businesses to build an e-commerce website like Amazon.
Better Business Analysis
Collecting and analyzing consumer data is highly crucial for businesses to understand their target market and increase their profitability.
This data analysis provides critical information, such as consumers' buying preferences, best selling time in the day, product popularity in different geographical areas, least popular products, the best-selling color of products, and much more.
By analyzing this data, businesses can make decisions that directly boost their profitability.
However, it is challenging to generate this analytical data when a business is selling goods through a third-party platform. While some brands do not give out their customer's information, others just don't allow data customization based on preferences.
Therefore, the development of an e-commerce website gives complete control of the data to the business and even allows them to customize it. Better data quality helps brands in strategic business planning and enhances decision-making.
Benefitting from Search Engine Optimization
Search Engine Optimization is the best way to earn high returns and increase the digital visibility of a brand. Excellent SEO requires the addition of extra codes in the website's backend.
However, a brand that uses a third-party website to sell its products does not have access to the backend and therefore cannot integrate SEO strategies.
Moreover, adding SEO strategies to a third-party website is not a wise choice, as it is the platform owner that will benefit from the ranking and not your business. Therefore, developing an e-commerce store is a wise choice to benefit from SEO.
These were a few of many reasons why you should create your own e-commerce website, which can be similar to many well-known ones like Amazon. However, to create an efficient e-retail platform, one needs to follow various processes.
For instance, thorough research is required in order to identify the target market, its buying habits, and preferences. Based on this, one can determine and add popular features and functionalities to the website and gain customer value.
Moreover, if you want to make a website that is similar to Amazon, it is highly essential to understand the business model of Amazon. This will eliminate the obstacles in the web development process to a great extent.
You must now be wondering how to create a website like Amazon? Do I need to follow a specific process? Is it an expensive affair?
Keep reading this article, as we have covered all these points one by one in the following sections. First thing first, we need to understand the fundamentals of e-commerce websites by knowing about different e-commerce business models.

Ready to Create an Online Shopping Website like Amazon?
Get your free consultation now.
Inventory-led Vs. Online Vs. Managed Marketplace: Which One Is Best for Your E-commerce Business?
If you have decided to create an e-commerce website like Amazon, you also need to determine the business model which you wish to follow. Moreover, it is not necessary that the model that Amazon follows will be profitable for your business as well.
As an e-commerce website development company, we have witnessed businesses that try to implement Amazon's model fail. This mostly happens because the businesses don't clearly understand the marketplace model and directly aim for its implementation.
Therefore, before discussing how to build a website like Amazon, we need to discuss the three essential e-commerce business models and find out which one is suitable.
Inventory-led Model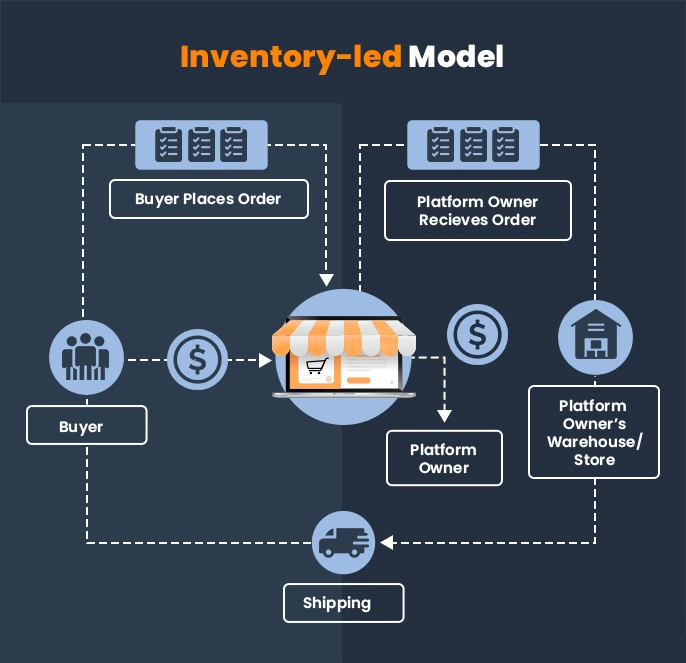 This is an e-commerce model that directly connects the vendors to the customers and facilitates online shopping. The buyers can place orders on the platforms, and against the purchase request, the seller packages the goods and initiates their delivery.
Moreover, other sellers cannot register on the platform as it is exclusively developed for a single vendor to sell its goods. The seller has the sole authority to decide whether to add a new seller to the platform or not.
It is worth knowing that in the inventory-led model, the seller has its own warehouse to store products and an inventory management system to keep track of these goods.
Developing an e-commerce platform with this model can turn out to be a cost-intensive affair. This is because a single business has to bear various costs, such as warehouse and inventory management systems.
However, this investment is worthwhile in the long run, as a business can deliver a personalized customer experience and generate customer loyalty.
The inventory-led model is ideal for businesses planning to go digital in the local market and sell goods online. Additionally, it is also possible to expand your business to other geographical regions with this model. However, this will require additional investment and might even increase the complexity of the business operations.
Some of the most popular and successful examples of this model are Xiaomi, American Tourister, and many more.
Online Marketplace Model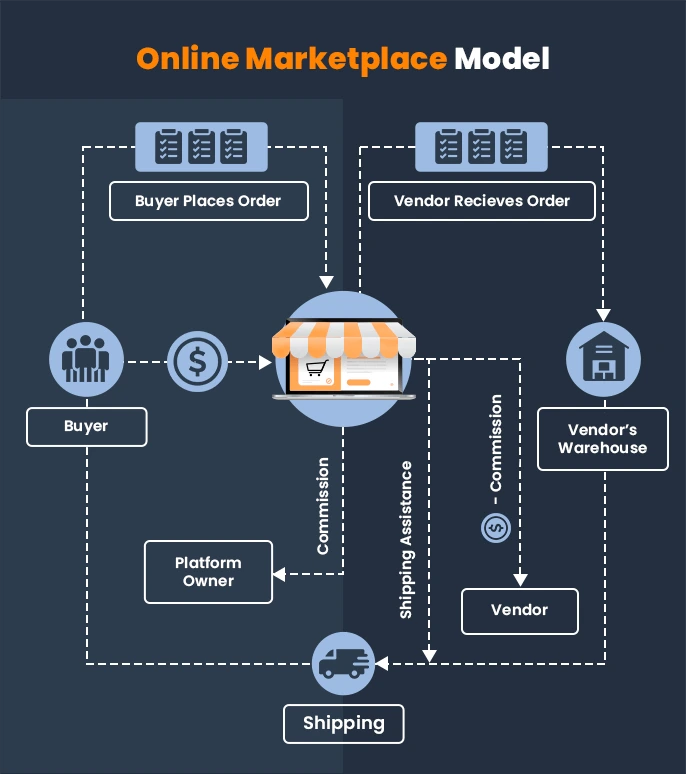 The online marketplace is one of the most authentic forms of e-retail, in which various sellers are enlisted on the platform, and the platform owner does not manage the inventory. However, the platform owners creates an online marketplace for the buyers and sellers to find each other and do business.
As a result, the website owner acts as a mediator and charges a commission on each transaction made on the platform. Moreover, some e-retail platforms do offer shipping assistance to their enlisted sellers and charge them for the same. This is useful for businesses to deliver a consistent shopping experience.
Generally speaking, it is easy for platform owners operating with an online marketplace model to expand their business globally. All you need to do is add sellers from the geographical location where one intends to expand.
Since many times the platform delivers the goods to the customers, it is necessary to ensure that they are of optimum quality to maintain customer satisfaction and loyalty. Delivering goods of sub-standard quality can negatively impact the brand's reputation and decrease the chances of repeated purchases.
In addition, as the goods are delivered from the seller's warehouse, it can become impractical and tedious for the platform to conduct a quality check.
It is also important to know that in the online marketplace model, the transactions can be between business and customers (B2C), as well as between two businesses (B2B), depending upon the nature and type of the e-commerce platform.
Moreover, one also needs to consider the high shipping costs involved in this model, which are usually borne by the sellers. This is because the platform owners control the e-commerce strategies and add their own commission to the transaction.
Walmart is the best example of a platform working by the online marketplace model.
Managed Marketplace Model (Amazon Follows)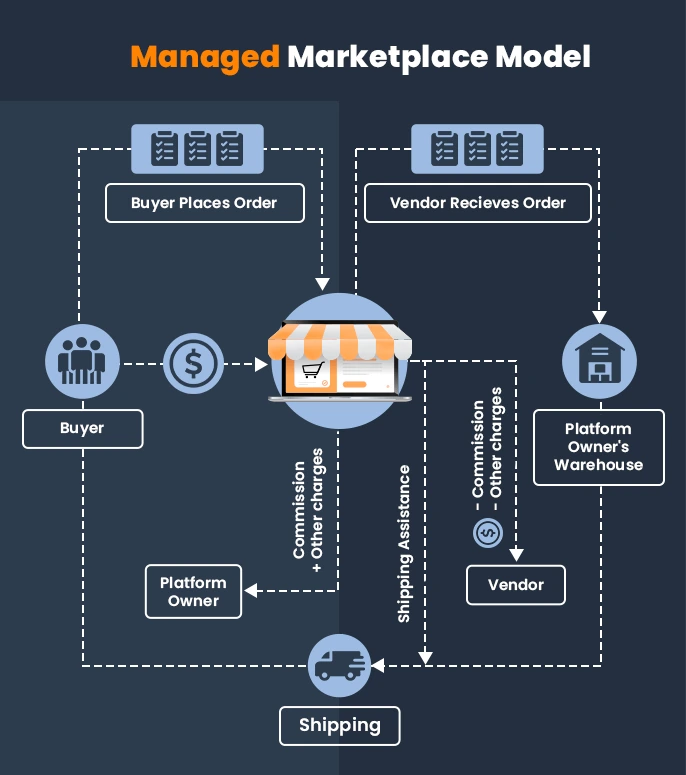 Managed Marketplace Model combines the fundamentals of the Inventory Led Model with the Online Marketplace Model and gives a unique business approach.
In this model, an online platform is created in which a large number of sellers can register and enlist their products. These products are stored in the platform's warehouse, from where they are delivered to the buyers, once ordered.
Moreover, multiple similar products can be enlisted on the platform from different sellers. Resulting from this, the buyers get a wide range of options to choose from, in various colors, shapes, designs, looks, etc.
The buyer can select the goods that meet their preferences and shop for the same. Upon this purchase request, the platform owner packages and delivers the product to the customer.
Amazon is by far the best example of managed marketplace e-commerce model. It uses various advanced technologies like predictive analysis to enhance its customer experience.
Sometimes, this type of e-retail is also referred to as an advanced online marketplace. You can refer to the image in this section to understand better 'how Amazon works'.
These are the three business models which are used by e-commerce platforms. Amazon uses the third model, which is Managed Marketplace Model, to do business. It is important to know this information before actually learning how to make an e-commerce website like Amazon.
This is because by knowing Amazon's business model, it will become easier to understand the features, cost, and many other aspects of the platform. Moving further, we will discuss how Amazon makes money.
What Is Amazon's Monetization Strategy?
In order to ensure profitability in a business, it is necessary to learn about monetization models and strategies. If you want to build an online marketplace that is similar to Amazon, you necessarily need to understand Amazon's monetization strategies.
Amazon follows a highly diversified business monetization model that is spread through various different segments.
The company generated net revenue of $280 billion in the year 2019, out of which net profits accounted for $11 billion. The major revenue generation sources for Amazon are online stores, physical stores, subscription services, advertising revenue, Amazon AWS, and third-party seller services.
Amazon marketplace is the core revenue-generating model of Amazon. Moreover, in the interest of keeping the article relevant to the topic, we will focus solely on the marketplace stream of Amazon.
Speaking factually, the Amazon marketplace accounts for more than 50% of the total revenue generated by the company.
As discussed earlier, this revenue comes from the customers and the sellers enlisted on the platform. Moreover, the revenue generated by the Amazon marketplace is expected to reach $729.96 billion by the end of 2022, as per a report by InsiderIntelligence. This will be an 18.8% increase in terms of year-over-year.
You can refer to the below-given image for a better understanding of the revenue contribution of each segment of Amazon. The data shown in this image is for the years 2018 and 2019.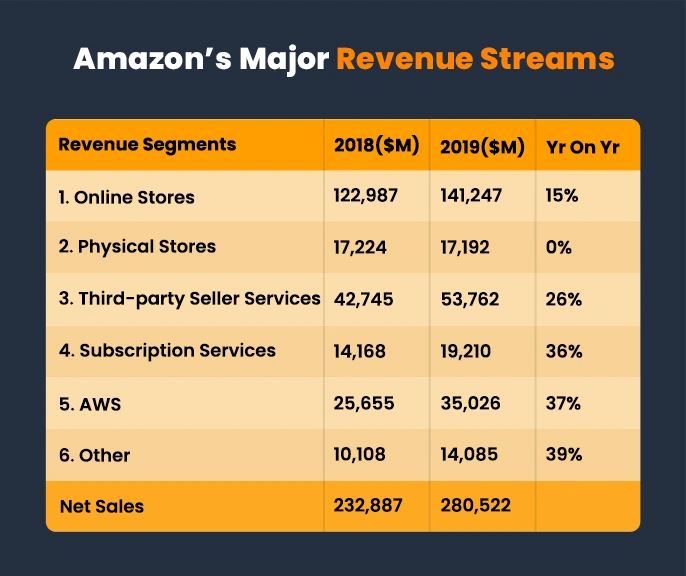 This was all about the business and monetization model that Amazon follows for revenue generation. Moving further, we will see how to develop a marketplace website like amazon.
This section is highly important, and therefore we encourage our readers to pay extra attention here.
Step-by-step Process: How to Create an E-commerce Website like Amazon
The demand for online shopping is rapidly increasing all across the globe, owing to which more and more businesses are looking for e-commerce web development.
It is often difficult to turn these ideas into reality, as the process of developing a website is time-consuming and complex. Various website owners skip steps in the web development process to cut down on time and cost investment.
However, following the complete website development process is essential for the best possible results. Let's take a closer look at each step of building an amazon-like website.
Step 1: Identify the Market Gap
There are many businesses that wish to make an e-commerce website like Amazon, but making an actual website that can compete with Amazon is highly challenging. This is because Amazon has well-established its market position, and the customers are loyal to the brand.
Therefore, to build a successful e-retail website, one needs to find and work on Unique Selling Points (USPs) which are not present in Amazon. This will not only help you to find the market gap but will also give your website a differentiated value.
Finding the market gap can be a matter of days, months, or in some cases, even years. One's determination towards their business goals is what will determine how long it will take to understand and grasp market opportunities.
Businesses spend a lot of time working on research and development. Therefore, there is no fixed time for how long it can take to complete the market analysis phase.
Moreover, rushing through this step or skipping it can be a business threat once you launch your e-commerce website. As a matter of fact, 8 out of 10 e-commerce businesses have failed because of a lack of market research.
Every industry and market is highly competitive at the present time. However, that does not mean that one cannot overcome this competition. By building an e-commerce store with ample market analysis, one can certainly generate high profits and gain success.
All one has to do is research any industry you wish to operate in and sell products from either one or a combination of such industries.
Popular E-commerce Industries
Gaming Product
Pharmaceuticals
Fashion
Beauty
Electronics
Sports
Books (Amazon started with this)
Groceries
Vegetables
Home/Garden Furnishing
Kitchenware
Jewelry
Pets Product
Children Product
And many more.
If you are creating an Amazon-like website, the possibilities are unlimited for product categories. Moreover, the business model, revenue generation model, and an analysis of the market gap are what determine the range of categories which can be implemented.
Therefore, market gap analysis is essential for starting a business like Amazon, as it largely determines whether a business will be a success or a failure.
Step 2: Conduct SWOT Analysis
After identifying the market gap, the next step is to develop a plan which aids market entry and helps to best utilize this gap.
SWOT (Strengths, Weaknesses, Opportunities, and Threats) is a tool of strategic management that is used to make business plans, identify challenges, determine possibilities, identify resources and inventory, and much more.
Therefore, conducting a SWOT analysis will enable you to identify and work on various internal and external factors which affect your business idea.
The main question here is, how do you conduct a SWOT analysis? Well, here are a few questions that can help you to conduct a SWOT analysis and identity each one of its elements.
Strength
What are the current market's problems? How will you deal with them?
How is your brand different from that of competitors?
What are your strongest qualities?
How do you plan to market your brand?
Will people shift quickly to your products? If so, how and why?
Weakness
What are your operating costs?
Which products are underperforming?
Are there any resources that are missing to perform operations?
Is there anything you should avoid?
Opportunities
Do people need solutions to their problems, or not?
How can trends be used as an advantage?
Has the purchasing habits of people changed?
How does technology leverage strength?
Are there any new market segments?
Threat
Does changing technology make things more difficult?
How are government rules affected?
Does your competition have a chance to beat your USP? How can you overcome this?
Are changing trends a threat to business?
The role of SWOT analysis is highly crucial when it comes to planning how to create a marketplace like Amazon. One can determine various factors such as the best way to take action, focusing time to market, cost-effective techniques, ways to reduce threats, elimination of obstacles in operations, etc.
Moreover, it is highly recommended to take group opinions to get the best outcome from SWOT Analysis. This is because getting opinions from multiple mindsets is highly useful in creating a thorough and well-planned strategy.
Step 3: Create a Business Plan and Monetization Strategy
Creating a business plan and monetization plan is undoubtedly one of the most vital parts of planning how to create a marketplace website like Amazon. Undoubtedly, this is one of the most critical steps, and lagging here can result in the business losing its entire ROI.
Moreover, businesses can also define their milestones, long and short-term goals, external and internal resource requirements, and more through this step.
Earlier in this blog, we discussed different types of business models for an e-commerce website. The e-commerce business needs to choose a business model which is in alignment with the business plan.
Failing to do so can result in massive losses, and the business can end up being unsuccessful. Therefore, this step is of high importance whenever we discuss about developing a website for online shopping.
A business plan helps in the identification of various crucial aspects of the business. To curate an efficient business plan, you need to use BMC (Business Model Canvas), which consists of 9 elements.
Here we have given a short summary of these elements.
Key Partners – Identify who are the key partners of your company. Also, determine why your company needs them as partners.
Key Activities – How do you deliver your value propositions? Consider the ways the company's operations differ from its competitors with respect to its revenue stream, customer relationship, and distribution channel.
Value Proposition – Identify the core values the company provides to its customers.
Customer Relationship – In what ways do you interact with your customers? How does your company provide customer support?
Customer Segments – Identify your platform's target audience. Will you be targeting a niche or a large market?
Key Resources – What are the specific key assets needed for business operations.
Channels – What do you do to deliver your products? How do you reach your customers?
Cost Structure – What are the key costs of the business model? Are key activities and resources leveraged in final costing?
Revenue Stream – Identify how your value proposition generates revenue. What methods are used for revenue generation?
Here, in order for you to understand how to create an online marketplace like Amazon, we have included the Business Model Canvas of Amazon.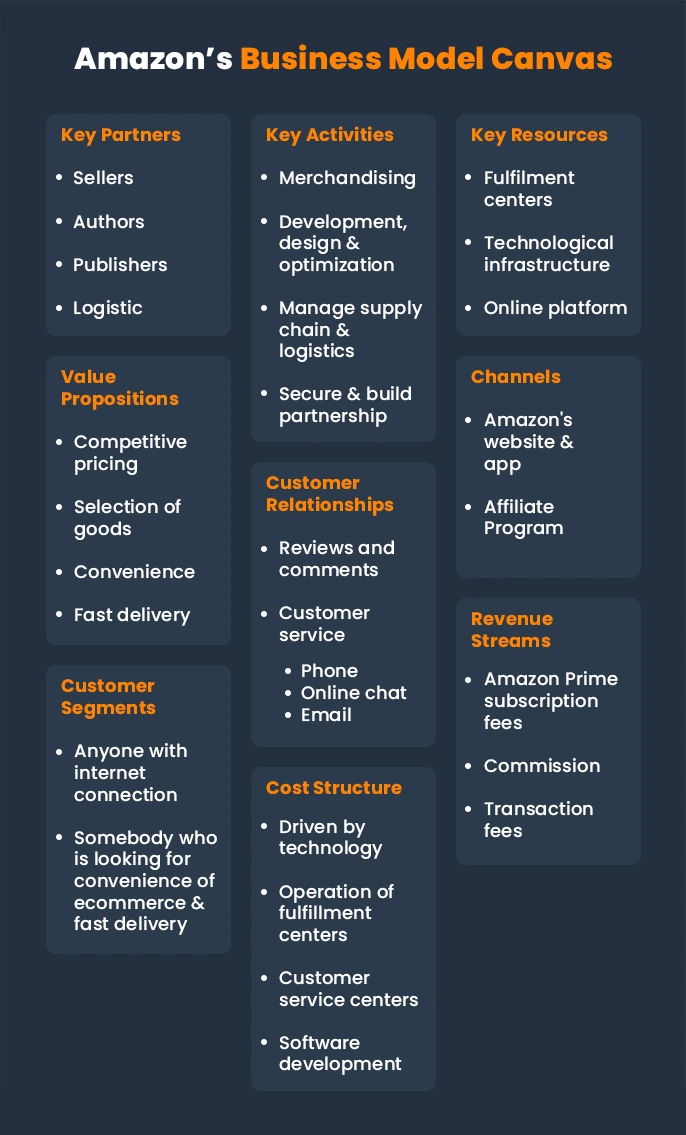 Step 4: Choose E-commerce Website Development Approach
When planning on how to start a business like Amazon, it is important to consider the type of development team that will develop your e-retail website.
There are five main ways to create an e-commerce website: DIY development, using web builders, hiring a freelancer, outsourcing to an agency, and developing in-house. Interestingly enough, each of these methods has its own pros and cons.
Businesses often find it challenging to make a choice on the web development approach. The development cost, timeline, and efficiency vary from one approach to another.
However, most of the companies choose to outsource website development, as this option has the least chance of unnecessary hikes in the cost. Nevertheless, let's take a look at each option one by one.
Do-It-Yourself (DIY) Development
Developing a website by oneself requires deep technical knowledge of web development. Moreover, the process of developing an e-commerce website like Amazon is not a piece of cake.
Owing to this factor, a fault in the development process can potentially hinder the business's profits in the long run. Even though self-development of the website will cut costs, it will also increase the development time.
Consequently, spending more time developing the website will result in less time left for other business activities such as marketing, strategy planning, competitor analysis, etc. Therefore, one might initially save money with self-development but will compromise on business planning and incur losses.
As a result, to ensure business success and efficiency, it is recommended not to create a shopping website like Amazon by yourself.
Use of Website Builder
Using a website builder is more or less similar to the self-development approach. In this option, the website owner builds a shopping website like Amazon by using various website-building tools.
Just like self-development, one cannot give enough time to their business planning and management when they build their website with a web development tool.
Moreover, the scope of customization is highly limited in web builders. In case one wishes to customize their website, one will need to hire a developer additionally. This will increase the overall cost of web development.
Hire Freelancers
One can hire a freelance web developer on various platforms such as Upwork, Freelancer, and Toptal. All you need to do is post your requirements on the portal, and freelancers from all across the world can see your project and bid on it.
You can see the proposal of different freelance developers, shortlist candidates, interview them and select the developers who fit your needs.
Since the developers are present from all around the world, there are chances of communication gap arising due to language barriers and time zone differences.
Moreover, there is no guarantee of the quality of the website, and there are always chances of the developer abandoning the project in the middle.
Even though this approach might cost less initially, there is always a chance of some unfavorable circumstances arising amid the project.
As a result, one might need to hire a different team to make a shopping website like Amazon and start from scratch. This can result in an increased development cost and timeline of the website.
Hire In-house Developers
Amazon and many other e-commerce giants hire their own in-house development team, which works on the website continuously. Having an in-house team is a good option, provided that the company has a large budget and timeline for development.
However, developing a shopping website like Amazon, that too with an in-house team will require proper infrastructure and maintenance. For instance, business analysts, frontend developers, backend developers, project managers, quality analysts, and graphic designers are needed to develop a website.
One needs to first hire a human resource manager in order to hire each member of the team. Moreover, the hiring process is not only long and time-consuming but also requires additional financial investment.
Therefore, this approach is not recommended for people who want to know how to start an e-commerce business like Amazon in a short time.
Outsource to Agency
This is the most recommended option for developing an online marketplace like Amazon. All the above-given options either have a high budget, high timeline, or compromised quality.
However, in this approach, businesses neither have to face high development costs nor wait for a long time for website deployment and, in the end, can get a high-quality website.
Here, an web development agency takes care of the website development project of your business. Even though freelancing is another outsourcing option, there is no guarantee of quality output.
However, this is not the case in this approach, as here a complete team of skilled developers works on your project.
Web outsourcing agencies usually have many clients and full-time development staff. These agencies take care of your complete needs and are known to deliver excellent end results. Therefore, the developers are assigned to a project as soon as the deal is finalized.
Moreover, a dedicated project manager and business analyst stay in touch with the website owner and provide timely feedback and updates on the advancements in the project.
These are the five options for making an online marketplace similar to Amazon. In case you want to outsource web development to an agency, you need to spend some time looking for the best web development company.
The Gray Bear is the leading web development company based in the USA offering excellent solutions.
We have completed 80+ projects so far, with a client base in 20+ countries.
You can get a free consultation today from our experts and discuss your requirements.
Step 5: Domain, SSL & Hosting
Domain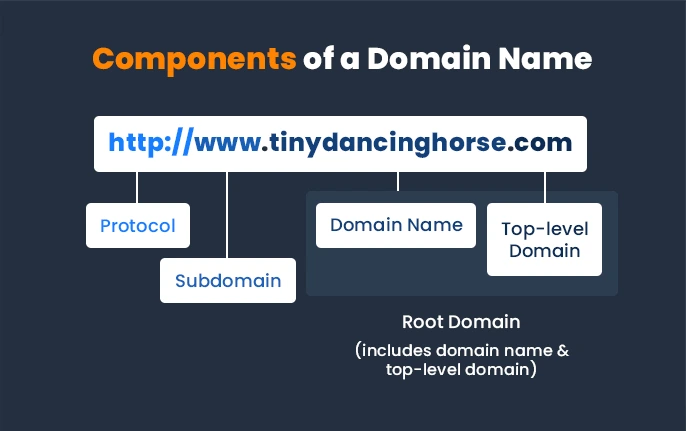 After you have developed an e-commerce website like Amazon, you'll need a domain name and hosting. A domain name allows people on the internet to easily find your website and browse through it.
Therefore, the domain name is a very crucial element for not only your website but also for your business, as the customers recognize your brand by it.
Choosing the wrong domain name can cause many problems for your business and can even hurdle your website's traffic. Therefore, it is highly recommended to conduct ample research before choosing the domain name.
Here are a few questions you can ask to simplify the process of selecting a domain name.
What type of TLD is best for your business?
How easy is it to recognize your domain name?
Is your domain name too lengthy?
Does your domain name follow your industry's jargons?
Do you have a domain name similar to that of your competitor?
Once you have researched the above-given questions, you'll have a unique and excellent domain name for your e-commerce website.
At this stage, it is recommended to trademark the domain name to avoid it from being used by other businesses and websites. Once you are done with this step, you can go ahead and purchase an SSL certificate.
SSL
SSL provides additional security for the data transferred on the website over the internet. An e-commerce website should ideally have an SSL certificate.
This is because it contains highly sensitive information such as email id, phone number, address, debit card & credit card number, etc. Therefore, as the website owner, you must take a step to protect the customer's data from being misused.
Hosting
There are various options available when it comes to hosting. This includes shared hosting, cloud hosting, and more. The development team is the best to determine which type of hosting which be suitable for your website. The judgment is made on the analysis of your requirements.
This was all about the domain name, SSL, and hosting of the website. Each of these steps has a crucial role, as they help in making an e-commerce store work perfectly.
Step 6: Marketing
As important as it is to know how to build an e-commerce website like Amazon, one also needs to know how to market the website for better growth. In order to reach the business milestones, it is necessary to know how to communicate with the customers and promote your business to them.
When creating an online shopping website like Amazon, having a thoroughly planned marketing strategy is fundamental. There are two ways to market a product or a service: traditional marketing and digital marketing.
In the present time, digital marketing is preferred over the traditional one because of the vast benefits it offers.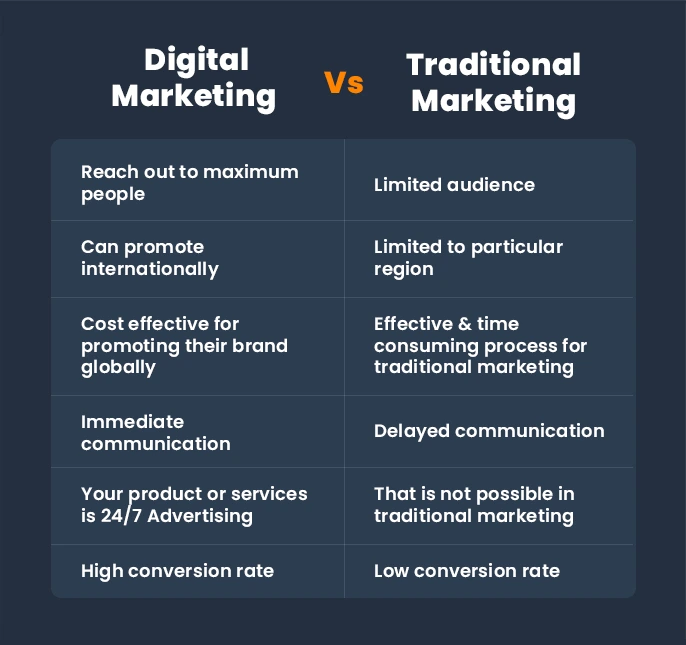 Amazon uses a combination of digital and traditional marketing strategies to promote its brand; however, we recommend the digital method. This is because digital marketing is more cost-effective, time-efficient, and has various other benefits.
Here are some of the most popular channels of digital marketing.
Search Engine Optimization (SEO)
Search Engine Marketing (SEM)
Social Media Marketing (SMM)
Content Marketing
Native Advertisements
Influencer Marketing
Email Marketing
All of these channels are important when it comes to the successful marketing of a brand. However, one needs to remember that marketing is not an overnight task and might take time before one can see the results.
Therefore, it is necessary to give time to your brand to grow and focus on consistent marketing.
These were the six steps that one needs to follow while planning to make an Amazon-like website. So far, we have discussed all the aspects of the question, 'how to build a marketplace website like Amazon'.
It is necessary to put the effort into every step to gain the best possible results and ensure the long-term success of your business. Moreover, adhering to each step mentioned above will eliminate obstacles that your business can potentially face in the future.
Next, we will discuss the features of an e-commerce website.

Looking for a Partner to Develop Your E-commerce Website like Amazon?
MVP & Advanced Features for Building an E-commerce Website like Amazon
Features are what make a website unique and enable it to stand out among its competitors. Therefore, while planning how to build a marketplace like Amazon, it is highly recommended to give ample time to market research to find out the most popularly used features by e-commerce websites.
Amazon, eBay, and Walmart are the top online shopping platforms. Doing competitor research with these platforms will help you to figure out the popular features of e-commerce websites. Moreover, to make a shopping website like amazon, special emphasis must be laid on the features that Amazon has implemented.
Additionally, a lot also depends upon the development team you have chosen for your web development project. For example, If you choose to outsource your website development to an agency, the agency will help you come up with features to add to your website. Moreover, if you have your own list of features, you can share it with the company as well.
By adding these features to your website, you can ensure that your website is successfully filling the market gap. However, it is a commonly known fact that even with the best of features and functionality, there are chances that your website might fail. As a result, investing a high amount in developing high-end features can be a potential business loss.
It is therefore recommended to develop MVP (Minimum Viable Product) features and test them in the market before launching the complete website. Of course, launching a website with only the basic features will cost less than that of a complete website, reducing the financial risk in case of failure.
E-commerce websites operating with the marketplace model have three panels: buyer's panel, seller's panel, and admin panel. Here are the MVP and advanced features to build a shopping website like Amazon.
MVP Features for Buyers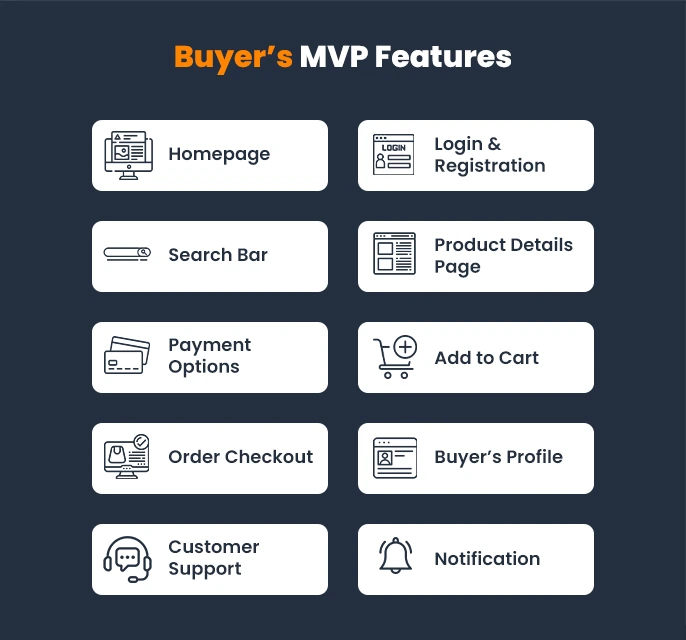 On the homepage, the buyers will find various new products, promotions, product categories, login/ sign-up options, and much more. This page is the first impression of the website that a user perceives, and this is where the users start interacting with the platform.
Therefore, it is important to keep the homepage tidy and organized. A poorly designed homepage can negatively impact the user experience and decrease the conversion rate. As a result, the role of the homepage is essential and critical when creating an Amazon-like website.
An e-commerce website contains various details about the buyers, such as their name, address, card details, phone number, email id, etc. Therefore by providing a login and registration facility, users can save this information and use it for every purchase.
Moreover, some e-commerce websites also allow users to log in or register from their social media platforms, such as Facebook, Google, Twitter, or even email address.
E-commerce websites have numerous products listed on them. By adding the search feature, the buyers can easily look for the products they wish to buy. In addition, Amazon offers autocomplete search functionality as a part of its search feature, which is an excellent tool for enhancing user experience.
Additionally, search filter options such as 'filter by price range' and 'filter by features' (color, style, etc.) are a few options that are added to the search bar. These features allow the users to find the exact products they are looking for with ease.
Buyers wish to see various details about the product before making the buying decision. This information generally includes availability on a particular pin code, payment options, reviews, product specifications, and various other details.
A product page contains all the necessary information about the product, which the users go through before making purchases. This feature is highly necessary when building an e-commerce site like Amazon, as this is the only way for the buyers to ensure that they're making the right purchase.
Different users prefer different payment options while buying products from e-commerce websites. In order to offer an enhanced customer experience and target a wider market, e-commerce website development needs to include various payment methods.
This includes COD, credit card, debit card, net banking, UPI, country-specific payment gateways, etc. The user can choose the payment method which is convenient to them and shop online with ease.
Buyers might wish to buy multiple products at the same time. The add-to-cart feature allows the buyers to add various products to their shopping cart. Once the buyer has finished adding the desired products to their cart, they can purchase all of them at once.
This is similar to real-life shopping, where buyers go to convenience stores and add different goods to their carts.
Once the buyers have decided what they wish to purchase, they can go ahead and proceed with the order checkout.
Here, the buyers can review their order, select payment method and delivery location, give delivery specifications, and even find the expected delivery date. It is also possible to find out shipping charges and add coupon codes on the checkout page.
This page contains the history of past orders and current (due to be delivered) orders. Buyers can use this page to print or download invoices, get help with orders and even review them. Moreover, buyers consider the order history a useful feature as it enables them to keep track of their purchases.
The profile page is where the buyers can view their account details on the e-commerce platform. Here, the users can add, delete and modify information provided by them. This includes name, address, email id, phone number, debit card & credit card information, etc.
One can also check membership status and subscription plans on this page. Moreover, customer ticket and customer support options are generally added to the buyer's profile but can also be a separate options altogether.
This page allows the buyers to contact the customer support team and resolve their queries and doubts. If the user has any problem with the product, account, or anything related to their purchase, they can get help from the company through this page.
A brand provides support to its customers in various ways, such as telephonic calls, emails, messaging, and even AI chatbots. This is a highly crucial feature, and it can either make or break the whole market trust.
The notifications section 'notifies' the user about various new offers, discounts, product launches, stock availability, email verification, logins, product delivery status, and much more. This is a highly important feature that one needs to consider when planning how to create a website like Amazon.
MVP Features for Sellers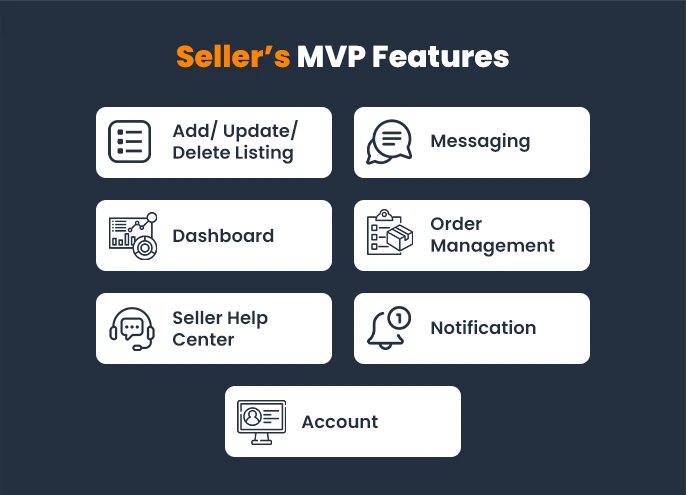 Add, Update, or Delete Listing
Depending upon their business decisions and stock availability, the sellers can add, remove or even update their product listing. The main listing page contains information such as product image, description, specifications (weight, color, height), regional availability, and much more.
Being able to talk with the seller is the essence of customer satisfaction and the loyalty resulting from it. Whenever a buyer has questions about a product, they can ask the seller directly on the contact page. Simultaneously, the seller will get notified about the query and can respond to it quickly.
Moreover, this feature also allows the seller to see how many questions are left to be answered. In order to make a website like Amazon, one can add this feature to their website and enhance the user experience.
The dashboard allows the sellers to get the general reports and basic analytics about their business. This includes information on highest and least selling products, net sales, net profit, etc.
One can even sort this information on monthly, quarterly, and yearly basis and generate profit graphs, sales graphs, etc. Moreover, there is also a link to see other metrics, which redirects to detailed analytics.
Once the buyer has placed the order, the seller needs to manage and overlook it until the delivery has been made. This is one of the most critical features of the seller's panel. Moreover, the seller can manage refunds, order returns, and more from this page.
The seller can seek support from the team of the e-commerce website through this page. This is usually done when the seller faces issues with their accounts or other technical concerns.
For instance, the buyers might have a request that the seller cannot handle, in which case they need to contact the support team.
Here, the seller can find and edit information such as membership, subscription plans, tax-related information, bank details, and more. One can add, change or even delete the information depending upon their preferences.
Sellers can get notified about various essential things such as order arrival, product shipment status, and even membership due date. Therefore, the notification option is crucial to the sellers.
Advanced Features for Buyers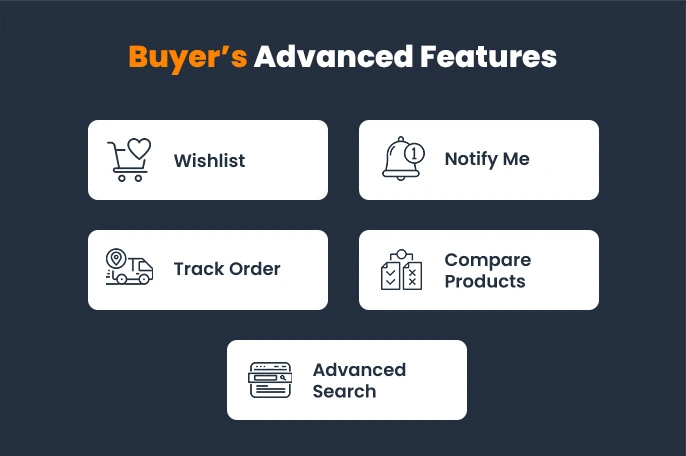 This feature is useful for buyers who wish to purchase the products in the near future. One can add these products to a separate list called wishlist and then transfer them to the cart.
Whenever a customer wishes to buy the product(s), they can simply browse through their wishlist and place the order for the same.
It is common for buyers to look for products but not be able to buy them because of their unavailability/ shortage. Therefore, by using the 'notify me' feature, they receive notifications on the website (and in email, if agreed to) about the restocking of the product.
As a result, adding this feature can increase your website's sales and need to be considered when planning to build an e-commerce website like Amazon.
Buyers are always curious to know when they will receive their order and anticipate the same. By using the 'track order' feature, they can easily find the location of their order and track the delivery process.
Moreover, if there are any changes in the order delivery date, the system can directly update the buyers on the same from this feature. Therefore, order tracking is highly useful for enhancing customer experience and generating customer satisfaction.
E-commerce websites, especially ones like Amazon, are known to have a lot of products in a single category. Therefore, it becomes difficult for the buyers to determine which product is best suitable for their needs.
As a result, a comparison of two or more products can be helpful for the buyers in making the buying decision. This can potentially increase the customer experience and enhance the website's functionality.
Nowadays, users are tech-savvy and always look for features at par with the latest technology. Adding voice search to the website can allow the users to look for the products through a voice command.
Moreover, with the help of a barcode scanner, the users can look for products by simply scanning the barcode with their device's camera. This significantly enhances the website's user experience and promotes customer satisfaction.
Advanced Features for Seller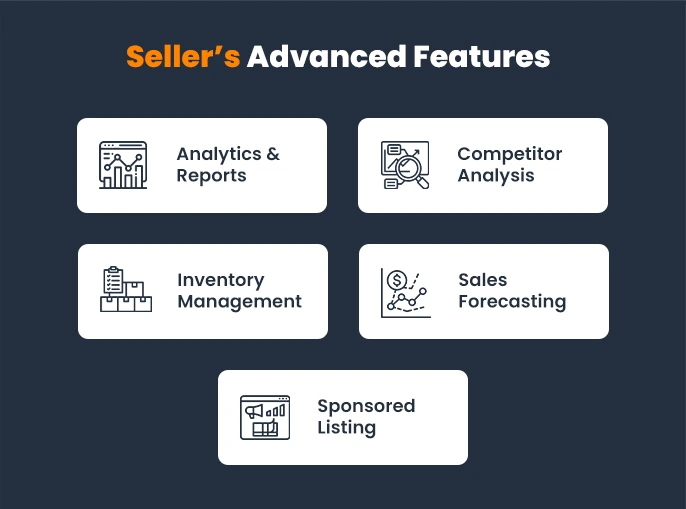 This feature provides the seller with a highly useful and in-depth sales analysis. Moreover, one can also filter data as per their preferences, and make more informed business decisions.
Certain e-commerce websites allow the sellers to compare the sales of their products to that of their competitors. This allows the sellers to access various core metrics and make better decisions.
The sellers can also enhance their business planning and management through this analysis and detect faults in their current strategies. However, one needs to integrate advanced technologies like Big Data and Artificial Intelligence for this feature.
As the scale of operations increases, it becomes more and more challenging for the sellers to maintain their business's inventory. Integrating the inventory management feature can aid seamless stock management for the sellers enlisted on your platform.
This feature can update the seller's inventory with every order made and returned. This real-time inventory management enables the sellers to track inventory and make crucial business-related decisions.
If you are planning to create a website like Amazon, it is recommended to add this feature to your portal.
Forecasting sales is crucial for sellers, as they plan their business strategy according to these sales forecasts. However, integrating this feature requires using high-end technologies such as Artificial Intelligence and Big Data.
Nevertheless, once integrated, this feature can be handy for identifying market trends and planning business strategies accordingly, therefore enhancing business operational planning.
E-commerce websites, especially those with a marketplace model, have many similar products enlisted on them. Therefore, it often gets confusing for the buyers to differentiate the products and make the purchase decision.
However, sellers can differentiate their products from that of a competitor by utilizing the sponsored feature and getting a higher rank on the product search result page.
This will not just help the businesses but also the website to generate higher revenue, making it a considerable idea while creating a website like Amazon.
These were the most prominent buyers and sellers features that are present on an e-commerce platform. However, the website owner requires an admin panel to manage and monitor these buyers and sellers. We will now discuss the admin panel features of e-commerce websites.
Features for Admin Panel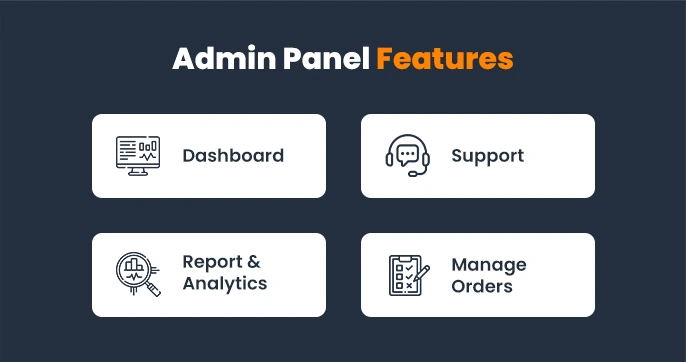 Here, the admin can view the demographics of the buyers and sellers and access highly critical information. This includes data on revenue generation, commission, product popularity, etc. Simply stated, the admin dashboard is an absolute solution for high-level analytics of the e-commerce website.
The platform owner needs to listen to and act upon the concerns of the buyers as well as sellers. This could be concerns related to the account or even the products sold on the platform.
This is where the support feature comes into action in the admin panel. This feature is highly useful for generating additional trust and loyalty amongst the platform users.
FAQs, articles, chats, calls, emails, and tickets are a few of the most prominent methods used by e-commerce platforms to provide support to their sellers and buyers.
One can choose which type of support option they wish to add while creating an Amazon-like website. Some websites even choose to use a combination of two or multiple support options on their website.
Admins can use this feature to see various highly detailed and informative reports on the performance of their website.
This includes the current number of visitors on the site, bounce rate, number of people adding products to the cart, number of people not checking out the products in their cart, out-of-stock products, etc.
An e-commerce website consists of a large number of buyers, sellers, and products. It, therefore, becomes difficult for a single person to manage everything, especially if the operations are on a large scale.
Moreover, it is necessary to include different mindsets and strategies, and specialists for each operation.
With the admin management feature, the admin can create different sub-admins, which have different levels of access to the admin panel. This will also increase the overall efficiency of the operations.
Being an e-commerce business, the admin panel needs a feature that facilitates order management. Moreover, if you are following Amazon, you would know that the company also has its own warehouses.
Therefore, managing the complete ordering process, from receiving the order to its delivery, requires the admin's insight. This makes order management feature an integral part of e-retail websites.
These are the features that a business must add to its e-commerce website to achieve success. However, it is necessary to note that a brand might require more features as per its monetization and business model.
It is suggested that one makes a complete list of the features and compares them side-by-side with their business model. Only after that one can make a separate list of additional features.
Lastly, you can send in the final list of the features to the development team and launch a precise Amazon-like website.
Moving further, let's find out how much it will cost to make an online shopping website like Amazon.
Cost to Develop a Website like Amazon
After determining how to build an e-commerce website like Amazon, the next major concern of website owners is the cost of developing the website. However, it is essential to know that when it comes to developing a website, there is no 'one solution fits all'.
The final web development cost will depend upon the business model and the functionality and features which the website owner is looking for.
Here we have offered estimated development costs on the basis of the general features that most of the e-commerce websites have. The cost of making an amazon like website might increase or decrease on the basis of your needs, business model, and budget.
Therefore, to get an exact estimate, you need to consult with a web development agency. Upon understanding your requirements, the agency will conduct research and will provide you with a quotation for web development.
You can also connect with The Gray Bear, which is a global leader in website development and designing. We have worked with several clients in the past and offer functional and seamless e-commerce website development services.
Owing to our rich experience and expertise in the field, we are able to build an e-commerce website like Amazon with ease.
Coming back to the topic, the cost of developing a website is highly variable. However, two critical factors that significantly impact the final cost are the number of hours needed for web development and the development location.
Moreover, as a rule of thumb, the more complex a website is, the longer it will take to create a website like Amazon.
Feature Wise Time and Cost Breakdown
Development
Modules
Approx. Time (Hours)
Buyer – Basic Features
Homepage
64
Login and Registration
32
Product Search
88
Product Page
40
Payment Options
48
Add to Cart
24
Order Checkout
40
Order History
32
Buyer's Profile
24
Buyers Help Center
64
Notification
24
Total Development Time (Buyer's Basic Features)
480
Seller – Basic Features
Add, Update or Delete Listing
64
Messaging
56
Dashboard
48
Order Management
100
Sellers Help Center
80
Account
32
Notification
24
Total Development Time (Seller's Basic Features)
404
Admin Panel
Dashboard
80
Support
64
Report and Analytics
160
Admin Management
48
Manage Orders
40
Total Development Time (Admin Panel)
392
Total Development Time for Basic Features
1276 (480+404+392)
Developing a simple website with the most basic functions will take an average of 1276 hours. Moreover, in case you want to add more complex functions to the website, the timeline can go up to 1900 to 2000 hours.
Let's have a look at the cost of web development in different countries if you build your e-commerce website like Amazon from their developers. These costs are calculated considering that the website will have advanced features like Amazon.
Destination
Hourly Charge
Countries
Approx Cost (Based on 1900 hours)
Asia
$15-$40

India
Nepal
Bangladesh
Pakistan
Philippines
Indonesia
Malaysia
China
Vietnam

$28,500-$76,000
Africa
$20-$45

South Africa
Kenya
Nigeria
Morocco
Egypt

$38,000-$85,550
Eastern Europe
$40-$70

Ukraine
Belarus
Poland
Romania
Hungary
Bulgaria
Austria
Slovakia
Czech Republic

$76,000-$133,000
Latin America
$45-$80

Brazil
Mexico
Colombia
Chile
Argentina
Peru

$85,500-$152,000
Want to Develop an E-commerce Website like Amazon?
Get your free consultation now.
Bonus: Technology That Help You Succeed
When deciding on how to make a marketplace website like Amazon, it is always a good idea to make use of advanced technologies. As a matter of fact, Amazon itself uses various advanced technologies, out of which Artificial Intelligence is the most popular one.
Other technologies are Big Data, Internet of Things, Cloud Computing, and many more. Even though using these technologies is an optional step, it is highly recommended to do so to upgrade your website to the next level and deliver a seamless user experience and website functionality.
Let's take a look at these technologies individually and know how you can build a successful Amazon-like website.
1. Voice Shopping
This is one of the most widely known and highly popular technology trends which has changed the landscape of e-commerce. Amazon has already implemented voice search on its platform to enhance its customer experience and keep up with the market trends.
As a result, if you plan to launch a website similar to Amazon, you should consider including a voice search option as well. One can make voice search a USP of their e-commerce platform, as it is a relevantly new feature that has not yet been implemented by many companies.
2. Drone Delivery
An e-commerce brand can make use of this technology to speed up the delivery time of their products and even lower delivery costs. Various brands such as Amazon, UPS, and Dominos have implemented this technology.
It is noteworthy that this technology is not implemented by many e-commerce websites. As a result, one can make use of this gap in the market and provide differentiated services.
Moreover, the present time customers highly prefer innovation, and integrating drone delivery into your services has the potential to deliver up to this need.
However, the laws regulating the use of drones vary from country to country. Therefore, one will need to check the law before creating an e-commerce website with this tech.
3. Augmented Reality
Nowadays, buyers prefer experiencing a trial version of the product before actually making purchases. However, from a business point of view, it is impossible to provide a free trial to every customer asking for it.
However, with augmented reality, e-commerce businesses can deliver a realistic view of their products in a virtual environment. This will allow the customers to make better buying choices and will reduce the number of returned packages.
One can build a website like Amazon and benefit from this technology to gain a distinctive market position in e-commerce.
4. Artificial Intelligence
The process of anticipating future sales and obtaining analysis on that is a time-consuming, expensive, and complex process. Moreover, it requires great minds and other resources to make reliable forecasts.
However, with the use of artificial intelligence, one can significantly reduce the cost, time, and manpower it will take to accomplish these objectives. Moreover, artificial intelligence provides results that are more reliable and accurate than the human mind.
Moreover, Amazon has already implemented artificial intelligence in its business practices. Therefore, it is ideal to consider this feature in case you want to make a website like Amazon.
5. Chatbot
Chatbots have various functions in e-commerce, such as surveys, customer support, redirecting to a specific page, lead generation, etc. However, the main purpose of having a chatbot is to gain customer loyalty, even outside of business hours.
These chatbots operate by using artificial intelligence in the background. In the present time, most e-commerce websites use chatbots. However, most of them fail to use this technology efficiently as they consider it to be a mere autoresponder to certain queries raised by the users.
Chatbots basically pop up selected questions and give answers to them on the basis of options selected by the user. However, the potential of chatbots is way more than that.
In order to increase the efficiency of chatbots, the questions which are raised by the customers are analyzed by AI, and an appropriate response is generated.
These are a few of the most popular technologies which e-commerce brands can use to overcome the competition in a short period of time.
However, it is only the website owner who can determine whether or not to develop a website like Amazon with these technologies. This was the last topic and the end of the blog. We hope you have received clarity on your question, how to build an online marketplace like Amazon.
A Quick Recap
Amazon is the leader in the e-commerce market and is a common household name for many in the present time. Nowadays, there are numerous entrepreneurs who are inspired by Amazon's business model and want to start businesses like Amazon.
As a result, the competition in the market is fairly high and continues to exist for anyone who wishes to build a website like Amazon.
However, by thoroughly reading the above-given blog, we hope that you are clear on everything you wanted to know about how to develop a marketplace like Amazon.
We have covered various important aspects of e-commerce web development and have provided the latest ideas on the subject for your reference.
From monetization strategy to the development process, MVP features, advanced features, cost, and timeline, we have covered most of the parts of e-commerce web development.
You can use this blog as a reference when planning to build an online shopping website. Furthermore, by choosing the right web development approach, you can ensure that you launch a high-quality website.
If you are looking to outsource web development to an agency, you can connect with us and receive a free consultation. We are the leaders in web development, offering robust and high-end solutions to our clients.
Did you like this blog? Is there any information that is missing? Please give us your valuable feedback, and we shall work on improving our blogs.
Want to know about the cost of developing an Amazon-like eCommerce mobile application? Check out our web story on the topic.